Workers trapped at Freeport Indonesia's mine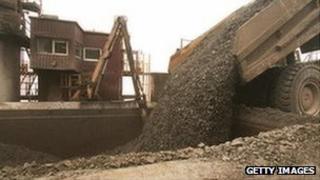 An accident at a major US-owned gold and copper mine in Indonesia's eastern province of Papua has left workers trapped, officials say.
Mining firm Freeport said at least four miners were rescued at its Grasberg mine after an underground tunnel collapsed early on Tuesday.
It added that 33 people were still trapped inside the tunnel.
Freeport said in a statement that "the rescue process is difficult and will take some time to complete".
One of those rescued hours after the accident was taken to hospital.
"Our thoughts and prayers are with our fellow employees and their families as we proceed with rescue efforts," Freeport said.
The company said it did not expect the incident to have an effect on mining and milling activities.
Freeport's Grasberg mine has one of the biggest copper and gold reserves in the world.
Mining accidents are not rare in Indonesia, but they usually take place in unregulated and illegal coal mines with shoddy and outdated practices, the BBC's Karishma Vaswani in Jakarta says.
The mine has an estimated 24,000 employees.
In 2011, workers staged a three-month protest asking for better pay, with miners only going back to work after negotiating a close to 40% pay rise.