Press highlight Pakistan challenges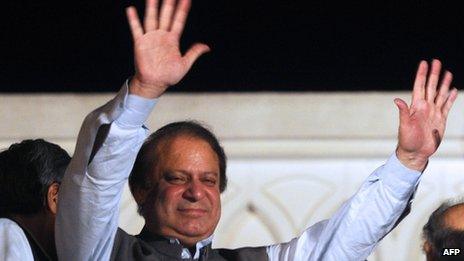 Former Prime Minister Nawaz Sharif looks set to form a new government in Pakistan after historic elections, but for domestic and regional press the celebration will be cut short as the new order faces up to Pakistan's many challenges.
While pundits and newspapers congratulate the Pakistan Muslim League (PML-N) chief for an impressive performance, they also highlight the economy, foreign relations and militancy as key issues.
'Reconstruct the country'
Financial daily Business Recorder says the elections have given the country "a rare chance to reconstruct the country "which has to be harnessed and fully exploited to regain our due place in the comity of nations".
As Mr Sharif comes from a business family, the paper argues this should help him "winning back the confidence and trust of the foreign investors".
Daily Times too feels that the "economy, particularly energy, needs immediate attention" and notes that "terrorism will remain a great impediment in persuading capital, domestic and foreign, to invest in the country".
Pakistan has faced severe power shortages affecting its ability to bolster the economy.
The Nation warns that "the monster of load-shedding (power cuts), and its concomitant evils, lies in wait for the PML-N government".
Writing in the Dawn newspaper, columnist Murtaza Haider says "the faltering economy, a near complete breakdown of the infrastructure characterised by power outages and fuel shortages, unemployment, terrorist violence… are some of the challenges that have to be confronted by the new government".
Mr Sharif has promised to make a series of changes in governance to tackle these key issues. But some pundits are urging a cautious approach.
"Thus, promising jobs for everyone in months, ending corruption in 90 days, and a quick end to load-shedding are the kind of promises that no government will be able to fulfil in a jiffy," Mr Haider adds.
Leading columnist Tariq Rahman also highlights power shortages and the economy as challenges for the new government in his Express Tribune article, but adds that it will have to take an inclusive approach in dealing with them.
Pakistan Today praises people for coming out to vote despite looming threats of violence. It suggests that the new government must take a cue from this and work with security agencies to curtail militancy.
Daily Times notes that "this issue will also bring him (Mr Sharif) into a necessary cooperation with the military, which he has reiterated in recent interviews must remain subservient to civilian authority".
The Nation says the menace of militancy is "a daunting task" and "a well-thought-out strategy has to be devised".
Mr Haider too expects the new government to "act swiftly and decisively to eliminate the seed of terrorism from Pakistan's soil".
Mr Sharif has talked of the importance of maintaining good ties with regional neighbours like India, Afghanistan and Iran, and also with the US.
The Pakistani media establishment appears to endorse this approach. Daily Times says Mr Sharif is expected to improve ties with India but feels Afghanistan must be top of his agenda with coalition troops leaving in 2014.
"Pakistan needs peace at home and in the region if it is to develop and prosper," the paper says.
Business Recorder feels Mr Sharif "is rightly in place to reconstruct bilateralism with India" and The Express Tribune feels "he will have to promote his pro-peace policies which resulted in (ex-Indian PM) Atal Bihari Vajpayee's historic visit to Lahore".
"Indeed, he will have to save the Pakistani troops from useless deaths by pulling out of Siachen unilaterally. He should even go ahead with peace in Kashmir," the paper adds.
Reaction among neighbours
The Hindu newspaper says Mr Sharif gives most hope "in his strong and unambiguous articulation of better India-Pakistan relations… Whether he can succeed is another question, but India will be hoping he will".
Reaction in Iran has been mostly congratulatory with reformist newspaper E'temad pointing out that the elections were held despite threats of violence from the Taliban - a positive sign in the paper's view.
But in Afghanistan, pundits have sounded alarm bells over Mr Sharif's victory.
Talking on Tolo TV, military analyst Jawed Kohestani says "Nawaz Sharif will make efforts to transfer all Pakistan's instabilities to Afghanistan".
Talking on the same channel, political analyst Taher Hashemi chose strong words and said "this person [Mr Sharif] does not believe in Afghanistan's political stability".
Ghafur Lewal, the head of the Regional Studies Centre of Afghanistan, told Channel One that "after this election… the tone of both the Pakistani civilian government and military will be against the USA and the interests of Afghanistan".
Senator Mahmud Daneshju on Khurshid TV says "the developments in Pakistan are unfortunately not in the interest of Afghanistan".
BBC Monitoring reports and analyses news from TV, radio, web and print media around the world. For more reports from BBC Monitoring, click here. You can follow BBC Monitoring on Twitter and Facebook.
Related Internet Links
The BBC is not responsible for the content of external sites.