Nawaz Sharif party tiger 'alive and well'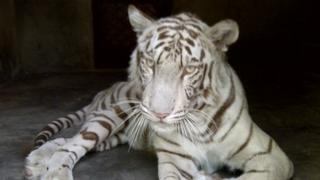 A tigress used to campaign in support of leading Pakistani election candidate Nawaz Sharif is alive and well, despite media reports of its death.
Some local TV news channels had reported that the white tigress named Sandy and owned by one of Mr Sharif's supporters in Lahore had died because of its heavy campaigning schedule.
The news went viral on Pakistani social media and was even reported in India.
But after seeing the tiger in its den, the BBC can confirm it is still alive.
It is in fact in rude good health.
Pakistani WWF officials were quoted opining about the tigress's death, saying it had been exposed to excessive heat.
One WWF official dismissed suggestions that the tigress was in fact still going strong: "If that tigress is still well and alive, why don't they bring it over or send fresh pictures to the WWF?" she demanded.
'My baby'
The tiger is the party symbol of Mr Sharif's Pakistan Muslim League-Nawaz (PML-N). When his supporters are asked who they are gong to vote for in Saturday's election they typically reply: "The tiger."
The tigress's owner, Idrees Ahmed, has taken the animal to many campaign rallies. It lies on the top of his moving car and onlookers throw rose petals at it. And he was furious about the premature reports of its death.
"It is my baby," he said, his voice cracking with emotion. "If someone told your baby had died how would you feel?"
He said that he had tried his best to correct the false media reports but was unable to do so.
"Everyone just said: 'Don't worry. You are becoming famous!' But how could I want to be famous for these false reports about the death of my baby?"
At Idrees Ahmed's farm on the outskirts of Lahore, Sandy is kept in an air-conditioned den.
The loving owner dismissed suggestions that it was a bad idea to take the unrestrained tigress on campaign rallies. "It doesn't bite," he said.