Six Muslims charged over monk's death in Burma's Meiktila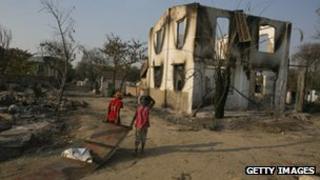 Burmese officials have charged six Muslim men over the death of a Buddhist monk during an outbreak of religious violence in March.
The men face death sentences for the monk's murder in Meiktila. The rioting saw at least 43 people - almost all of them Muslim - killed.
A dispute at a gold shop was thought to have triggered the deadly clashes between Muslims and Buddhists.
Three other Muslims were convicted of theft and assault in April.
The monk was knocked down from his motorbike by a group of Muslim men, beaten and killed, according to reports.
Apart from the monk, Meiktila's violence was almost entirely directed against the Muslim minority. More than 12,000 Muslims have been displaced from their homes since the clashes began on 20 March.
So far, despite the evidence that the Burmese authorities must have, no Buddhists have faced any charges, says the BBC's Jonah Fisher in Bangkok.
Footage filmed by the police and given to the BBC showed young Muslim men chased from their burning homes and hacked with machetes.
In almost an hour of material, clearly identifiable men and monks were seen destroying Muslim shops and mosques.
The row at the shop was said to have started over a gold hair clip. A fight broke out, and the store owner reportedly beat a Buddhist customer.
The owner of the gold shop, his wife and an employee were convicted of theft and assault in April.
Violence then spread to other towns and led to curfews being imposed. There were reports of mosques and houses being torched in at least three towns.
The conflict is the worst since ethnic violence in Rakhine state last year, where nearly 200 people were killed and tens of thousands forced from their homes.
The conflict that erupted in Rakhine involved Buddhists and Rohingya Muslims, who are not recognised as Burmese citizens. Scores of Rohingyas have fled what they say is persecution in Burma.
In a speech on Monday Burma's President Thein Sein promised to protect the "fundamental rights" of Muslims in Rakhine state.