Australia gives Holocaust hero Wallenberg citizenship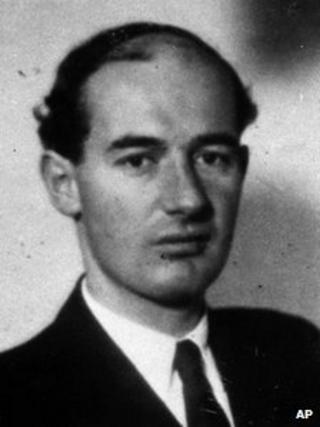 Australia has made a Swedish diplomat who helped save tens of thousands of Jews from the Holocaust its first honorary citizen.
Raoul Wallenberg was a diplomat in Nazi-occupied Hungary, and provided Jews with protective passports and shelter in diplomatic buildings.
Many of the people whose lives he saved later went on to live in Australia.
The fate of Mr Wallenberg, who was detained by Soviet troops in January 1945, is unclear.
Mr Wallenberg has already been given honorary citizenship in the US, Israel, Hungary and Canada.
Speaking at the honorary citizenship ceremony, Australian Prime Minister Julia Gillard said the move was "an expression of our deep gratitude for all that our nation gained when so many saved by Wallenberg came to these shores".
"As the last witnesses to the horrors of World War II leave us, it is vital, it is imperative, to keep alive the memory and example of individuals like Raoul Wallenberg," she said, describing Mr Wallenberg as a man of "moral courage and heroic example".
Frank Vajda, a Australian professor, said Mr Wallenberg saved his life when he was a young boy in Hungary.
He told Australian broadcaster ABC that Mr Wallenberg actively negotiated to save Hungarian Jews from execution and deportation.
"He stopped deportation trains before they passed... and handed his passes onto people and said to the Germans, I'm a diplomat, I'm a Swede, these people are Swedish citizens, they are in my protection and you must let them go," he said.
"I owe everything I've done in my life to Australia and I owe my life to Raoul Wallenberg," he said.
Mr Wallenberg is thought to have disappeared in Soviet custody after the war. A Russian inquiry said he was executed in 1947, after the German retreat, but the circumstances of his death remain unclear.
In 2012, Sweden said it would hold a new inquiry into his death, after a probe by a Russo-Swedish working group in 1991 failed to draw any definite conclusions.