Pakistan elections: On the campaign trail with Nawaz Sharif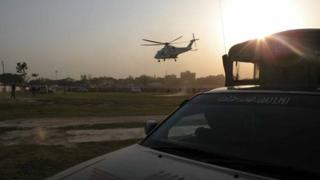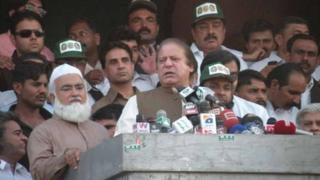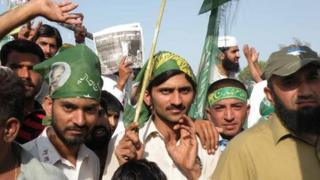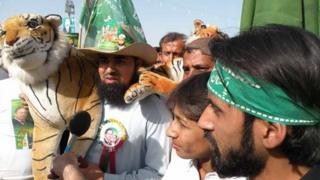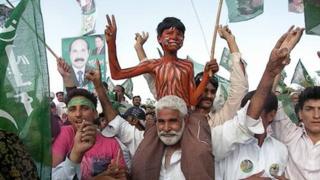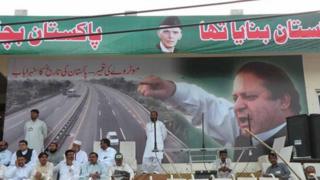 Nawaz Sharif takes to the rostrum at the election rally in Sargodha, in Punjab. A group of supporters frantically wave green hats adorned with the crescent-and-star logo of his PML-N party, urging him to wear one.
In a symbolic gesture, the former prime minister declines, saying simply: "I'll wear it on 11 May." The day of the elections.
The crowd - some 20,000 strong - goes wild, chanting slogans of victory.
One supporter with a large, soft toy tiger - PML-N's campaign symbol - flung over his shoulder says Mr Sharif is Pakistan's "only hope.
"He alone can put an end to unemployment, high prices and power outages."
Sweep Punjab?
A decade after being deposed from power and forced into exile by military ruler Pervez Musharraf, Mr Sharif has emerged as the hot favourite in a race which, if he wins, will create a new record: No-one has been prime minister three times before.
He is riding a wave of anger sparked by the perceived corruption and inefficiency of the last government, led by his party's top rival, the PPP party.
Mr Sharif is on a frenzied, helicopter-hopping campaign trail across the country, trying to reach as many towns and cities as possible in the short time he has left before the polls.
His major selling point is the go-getter image he has been cultivating - the achievements of his past governments and the one his younger brother, Shahbaz Sharif, recently led in his native Punjab province.
Large hoardings displayed at his rallies show pictures of the country's premier three-lane motorway he built in the 1990s, as well as a rapid transit bus system - Metrobus - that his brother inaugurated in Lahore in February.
Most opinion polls, for whatever they are worth in a complex country like Pakistan, put Nawaz Sharif ahead of all the other leaders in terms of popularity.
PML-N party-men are brimming with confidence that they can sweep Punjab, which is home to 60% of the country's population and can alone propel a party to power.
They achieved this feat in 1997, and ended up winning a two-thirds majority in the national parliament.
Added to this, Mr Sharif has the added advantage of being off the Pakistani Taliban's election hit-list.
This gives him a major advantage over his traditional rival, the PPP, which finds its campaign muted due to threats from Taliban.
Aggressive Imran
At a rally in Sargodha city of Punjab, Mr Sharif orders his stage managers to remove the bullet-proof glass from the rostrum so that he can have direct visual contact with the people.
The crowd roars in appreciation, waving party flags and hoisting toy tigers in the air out of appreciation for his bravery.
But appearances can be deceptive.
"Mr Sharif faces a tougher battle than it appears at first glance," says analyst and social activist, Azmat Abbas.
He says the PPP has created pockets of solid support across Punjab due to a prolonged, though invisible, cash-assistance scheme for the rural poor, making it highly unlikely that Mr Sharif will "be able to do another '97 here".
Another challenge comes from a resurgent former cricketer, Imran Khan, who appeals to the same conservative semi-religious, anti-West sentiment as Mr Sharif.
One of the main leaders not threatened by the Taliban, he too is on an aggressive campaign trail in Punjab, and in campaign speeches he has hit out at Mr Sharif for all the failings for which the two-time leader has been blaming the PPP.
Against this backdrop, can Mr Sharif really score his big hat-trick?
Defence and political analyst Hasan Askari Rizvi says that while the PML-N may improve its standing comparative to the PPP, neither group is likely to win a straight majority out of the 275 seats up for grabs.
And the PPP's record of coalition-making is better than that of PML-N, he says.
However, Mr Sharif could become the prime minister if his margin of victory over the PPP runs upwards of 25 seats or more, adds Dr Askari.
Troublesome economy
If Mr Sharif wins, what will it mean for Pakistan and the world?
Dr Askari fears a government under Mr Sharif will tilt towards the politico-religious right, and thereby create further confusion in how to deal with militancy.
"If chaos in Afghanistan increases after the Nato pullout, it will bring international pressures on Pakistan, and Mr Sharif's capacity for a balancing act will be less than that of the PPP because his stand on the issue is compromised by the right wing," he says.
"This will adversely hit his promises of salvaging the economy, for which Pakistan depends heavily on international assistance."
So while his hat-waving, tiger-hoisting voters expect economic relief, Mr Sharif faces some stark choices.
If he changes his tone on militancy, he risks losing the political support of a radicalised domestic constituency, and facing the prospect of running into trouble with a powerful military that does not seem keen on eradicating this menace quite yet.
If he stays the course, his economic performance could be as troublesome and shaky as that of the outgoing PPP government.
The challenge for Nawaz Sharif will lie in finding a middle-ground, and for this he will need wider support of both the secular and religious forces across Pakistan's fractured political landscape.