Chaudhry Zulfiqar murder: Another crisis for Pakistan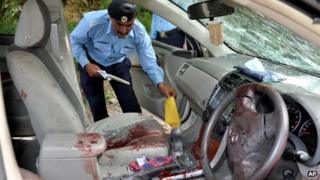 The killing of Chaudhry Zulfiqar Ali, a top prosecutor of Pakistan's Federal Investigation Agency (FIA), shows how tricky the security landscape in Pakistan has become.
Colleagues describe him as a veteran legal expert with an eye for detail, a quality that propelled him into the realm of some of the state's most sensitive, and also most dangerous, legal battles.
Many say the timing of the attack is equally tricky and equally confusing.
Chaudhry Zulfiqar was ambushed by four gunmen a short distance from his residence in Islamabad's G-9 Sector, minutes after he left for the court to appear in a hearing concerning a bail application by former President Pervez Musharraf.
Mr Musharraf ended four years of self-imposed exile in March to stand in elections on 11 May.
Instead, he was barred by the election commission and became the first army chief to be arrested by police for his suspected role in the 2007 assassination of former Prime Minister Benazir Bhutto.
Fingers pointed
It was Chaudhry Zulfiqar who initiated the move to arrest Mr Musharraf in the case, accusing him of abetment.
On Wednesday army chief Pervez Kayani made what many consider to be a veiled reference to Mr Musharraf's plight.
In an official address he pointed out that it was "not merely retribution, but awareness and participation" that could end the game of "hide and seek between democracy and dictatorship" in Pakistan.
Many interpreted this as the army saying it was not happy with the way legal matters relating to Mr Musharraf had transpired.
Against this backdrop many point to the possibility that elements within Pakistan's elusive secret services may somehow be behind the murder.
But fingers were also being pointed elsewhere, notably the two jihadist groups the TTP and Lashkar-e-Taiba.
Chaudhry Zulfiqar fearlessly spearheaded investigations against five members of the Pakistani Taliban faction called the TTP who were arrested in connection with Ms Bhutto's murder five years ago.
He was the main architect of efforts to push the court to hold day-to-day proceedings in this case so as to bring it to a quick conclusion.
Stark departure
Although most of the proceedings in the case had been completed, Mr Musharraf's arrest last month added a new side to it, necessitating a re-indictment of all the accused persons.
Another high profile case in Chaudhry Zulfiqar's in-tray was the 2008 attacks in Mumbai that killed nearly 200 people. This too was nearing completion and required no small amount of personal courage for him to pursue.
In 2009, in a stark departure from past practice, the civilian government admitted the Mumbai conspiracy was hatched on Pakistani soil.
At least seven Lashkar-e-Taiba activists were arrested and put on trial in Pakistan.
Later, Chaudhry Zulfiqar led a judicial team to India to record statements of four Indian investigators on the Mumbai attacks.
He was scheduled to head another team to India to cross-examine those investigators.
The determined and dogged lawyer collated money-transfer evidence and paper trails that linked militants in the country to the Mumbai attacks.
Chaudhry Zulfiqar received threats from various quarters on several occasions in recent months, mostly telling him to dissociate himself from these two cases.
According to BBC Urdu correspondent Shehzad Malik, Chaudhry Zulfiqar said at a recent private gathering that the threats became more frequent and intense after Mr Musharraf's arrest last month.
But he held fast.
His colleagues say when he took early retirement from the FIA several years ago, the government offered him the job of the deputy attorney-general. But he declined, saying he would first like to deal with the Bhutto murder case as a prosecutor.
The case will carry on despite his death.