Obituary: Chaudhry Zulfiqar Ali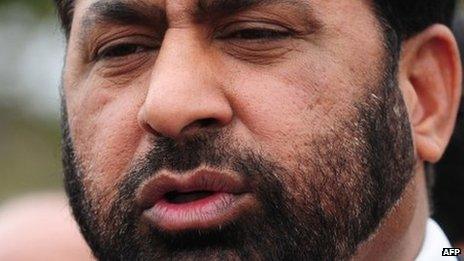 Chaudhry Zulfiqar Ali was one of Pakistan's most dynamic criminal lawyers, defying multiple death threats to pursue cases against suspects with powerful - and sometimes militant - connections.
Until last year he was a deputy director of the Federal Investigation Agency (FIA). His job was to determine which criminal cases should be brought to court.
But soon after stepping down from the role - ostensibly into semi-retirement - he was persuaded to return to the FIA as its chief prosecutor. His new role meant that he would be regularly attending court as prosecuting counsel in several high-profile cases.
Chaudhry Zulfiqar told the BBC last month that he had received death threats - mostly made over the telephone - related to all three of the major cases he was pursuing in the courts.
Prominent among these was his probe into seven members of the Lashkar-e-Taiba militant group suspected of involvement in the 2008 attacks in Mumbai, India, in which nearly 200 people were killed.
A career lawyer since leaving university, Chaudhry Zulfiqar worked closely with the interior ministry to bring militants suspected of using Pakistan as a base for the attack to justice.
It was the first time that Pakistan had publicly admitted the involvement of some of its nationals in an Indian terror attack and it was a move that was bound to infuriate some hardline factions.
The complex evidence Chaudhry Zulfiqar had to unravel included the planning, training and money-transfer trails in Pakistan that culminated in the attacks.
Another case that he vigorously pursued was the murder of former Pakistani leader Benazir Bhutto in 2007, for which he adopted a two-pronged approach.
His first line of inquiry was against five members of the Pakistani Taliban suspected of carrying out the attack.
But he also initiated the move to arrest former President Pervez Musharraf in the same case - an unprecedented move that reportedly angered some quarters in the military.
Chaudhy Zulfiqar told the BBC that the number of threats made by the Taliban and "unknown people" increased around that time.
He had put himself in the invidious position of upsetting both hardliners and the army, yet admirers say he never shirked from the pursuit of justice.