UK community leader Mueen-Uddin indicted in Bangladesh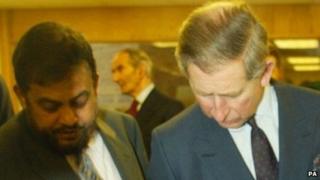 A British community leader has been indicted in Bangladesh for his alleged role in the killing of 18 people during the 1971 liberation war from Pakistan.
Chowdhury Mueen-Uddin strongly denies any role in the murder of 18 intellectuals in December of that year.
He is alleged to have been a member of the Al-Badr group, which identified and killed pro-independence activists.
He is accused with another alleged Al-Badr member, Ashrafuzzaman Khan, a United States citizen.
His lawyers have rejected all the allegations against him. They say that none of the accusations have ever been formally put to him and there has been no attempt to question him.
"The statements made by members of the government of Bangladesh are grossly defamatory to my client, wholly untrue and are refuted in their entirety," his lawyer Toby Cadman told the BBC.
Mr Cadman's website carries a detailed rebuttal of all the allegations against Mr Mueen-Uddin.
Holding dual British and Bangladesh citizenship, Mr Mueen-Uddin is a trustee of the UK charity Muslim Aid and played a prominent role in setting up the Muslim Council of Britain.
His website says that he is also the director of Muslim Spiritual Care Provision in the UK's National Health Service.
State prosecutor Syed Haider Ali told the AFP news agency that he "has been indicted for crimes against humanity and genocide". He said that Mr Mueen-Uddin fled Bangladesh soon after the end of the war.
Mr Khan, now believed to be living in the US, faces the same charges.
An arrest warrant was issued by the International Crimes Tribunal in Dhaka on Thursday for both men, who are accused of "directly taking part" in the killing of the 18 intellectuals between 10 December 10 and 15 December 1971.
Charges were initially put before the tribunal last month - on Thursday it accepted them and ordered their arrests.
Nobody knows exactly how many people were killed in the 1971 war. Bangladesh says up to three million people died, mostly in massacres by the Pakistan army and their local Islamist allies, the Razakar and Al-Badr forces.
But independent researchers think that between 300,000 and 500,000 died.
The tribunal in Dhaka has already charged 12 people with war crimes and sentenced two people to death, including the vice-president of Jamaat-e-Islami, the largest Islamic party.
But human rights groups have criticised the tribunal - set up in 2010 - for being politically motivated and falling short of international standards.
In December the presiding judge of the tribunal resigned - citing "personal reasons" - after his private emails and Skype conversations were leaked to newspapers.
The emails appeared to show that judge Nizamul Huq had discussed the working of the tribunal with a Belgian-based Bangladeshi lawyer.
The opposition has argued that it was improper for a judge to discuss the case with outsiders, but the government insisted that he was not acting injudiciously and that sections of the media were "attempting to besmirch" the country's reputation.
The case against Mr Mueen-Uddin and Mr Khan is due back in the courts on 12 May, when officials say a request could be made for their extradition.
Mr Cadman told the BBC that any such request will be resisted because so far no evidence has been provided to support the case, and no undertaking has been given to ensure that Mr Mueen-Uddin will not receive the death penalty.
Under British law, no-one can be extradited if they face capital punishment.
"It is quite clear that, without wishing to prejudice any future proceedings, the death penalty and fair trial considerations will be considerable hurdles," he said.