Bangladesh factories reopen after Dhaka disaster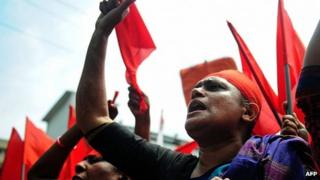 Millions of Bangladeshi garment workers have returned to work after days of unrest following the deadly collapse of a factory building near Dhaka.
Workers downed tools after the collapse last week, demanding safer conditions and punishment for those responsible.
Another seven bodies were recovered from the Rana Plaza building in Savar on Thursday, bringing the death toll to at least 427.
Meanwhile, the mayor of Savar, Mohammad Refat Ullah, has been suspended.
Local government minister Jagangir Kabir Nanak said the mayor was accused of approving the design of the building.
He added: "We won't spare anyone. Action will be taken against all who are responsible for the tragedy."
The building contained five clothing factories and more than 140 workers are still unaccounted for. Some 2,500 people were injured.
Death penalty
Many garment factories closed after the disaster as workers staged protests in Dhaka and other cities.
There were violent clashes with police and some factories had to be placed under guard.
"All factories have opened today and the workers have returned to work," Shahidullah Azim, vice president of the Bangladesh Garments Manufacturers and Exporters Association, told AFP news agency.
He said there were no reports so far of demonstrations or violence.
At May Day parades in Dhaka on Wednesday, marchers demanded the death penalty for the building's owner and better conditions for workers.
On Tuesday, Bangladeshi Prime Minister Sheikh Hasina had urged garment workers to return to work, warning that they would lose their jobs if the factories closed.
More than three million people, mostly women from rural areas, work in the country's garments sector.
Hopes have now faded of finding any more survivors in the rubble of Rana Plaza.
Recovery teams are using heavy lifting machinery to prize apart the huge pile of collapsed concrete slabs and the army has brought in trained dogs to locate victims.
A mass funeral was held on Wednesday for 34 victims whose bodies were too damaged or decomposed to be identified.
Arrests
A total of eight people, including factory owners and engineers, have been arrested for alleged negligence.
Rana Plaza owner Mohammed Sohel Rana, a local leader of the youth wing of the ruling Awami League party, is one of those in police custody.
Bangladesh has one of the largest garment industries in the world, and some of the clothes produced in the building were made for Western retailers.
The EU has said it is considering "appropriate action" to encourage an improvement in working conditions in Bangladesh factories.
It said its actions may include the use of its trade preference system, which gives Bangladesh duty- and quota-free access to EU markets.