Papua New Guinea PM plans to implement death penalty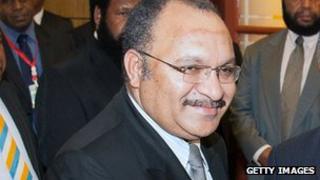 Papua New Guinea's prime minister has announced plans to begin implementing the death penalty and to increase prison sentences for violent crimes.
Peter O'Neill said violent crimes were becoming too frequent and that "draconian" measures were required.
Papua New Guinea has not carried out an execution since 1954, despite parliament's decision to reintroduce the death penalty for murder in 1991.
Mr O'Neill also said gang-rapists would face life in prison without parole.
Plans for an isolated island prison for high-risk offenders are being considered, as are tough new punishments for drug and alcohol offences.
"There will be maximum penalties that have never been seen before in this country," Mr O'Neill told local media on Wednesday. "But I think the majority of our people are demanding it."
Sorcery defence
The prime minister also announced that the government would repeal the controversial 1971 Sorcery Act, which acknowledges the accusation of sorcery as a plausible defence in murder cases, he added.
The move follows a surge of related violent crimes, which have brought international condemnation.
In February, a 20-year-old mother accused of sorcery was stripped and then burned alive in a village market.
Then last month, a woman was beheaded after being accused of black magic, and an Australian was murdered and his friend sexually assaulted, reports the BBC's Nick Bryant in Sydney.
An American researcher, her husband and their guide were also ambushed on a wilderness track.
Though the Sorcery Act criminalises sorcery, it is reported to have led to false accusations by people against their enemies, and also given sorcery a sense of legitimacy, our correspondent adds.
In 2009, after a string of killings, the chairman of Papua New Guinea's Constitutional Review and Law Reform Commission said defendants were using accusations of witchcraft as an excuse to kill people, and called for tougher legislation to tackle the issue.
The government has received more than 100 petitions from human rights and other groups, calling for urgent action to combat the recent violence, reports the AFP news agency.
The reforms are expected to come before PNG's parliament for debate later this month.