Japan's Mount Fuji 'set for Unesco listing'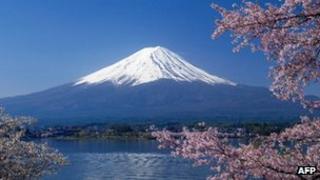 Japan's near-symetrical snow-topped volcano, Mount Fuji, looks likely to become a Unesco World Heritage site, officials say.
A key UN advisory council had recommended it as appropriate for registration, a statement from Japan's cultural agency said.
A formal decision is expected when Unesco's World Heritage Committee meets in Cambodia in June.
Mt Fuji, at 3,776 (12,460 feet) is Japan's highest mountain.
The volcano, which last erupted just over 300 years ago, lies to the south-west of Tokyo and is visible from the Japanese capital on a clear day.
It is featured prominently in historic Japanese art work, including wood blocks prints. It is also one of the traditional "Three Holy Mountains" - along with Mount Tate and Mount Haku, both in central Japan.
The Japanese cultural agency statement on Wednesday said that the International Council on Monuments and Sites (Icomos) had approved Mt Fuji as appropriate for registration.
Icomos is responsible for evaluating cultural properties nominated to the World Heritage List and submitting a recommendation to the annual meeting, it said on its website.
A second application for shrines and temples of Kamakura, to the south of Tokyo, did not receive approval, the Japanese statement said.
Japan currently has 16 World Heritage-listed sites - 12 cultural and four natural. The most recent addition to the list, in 2011, were the Buddhism-linked gardens and temples of Hiraizumi.