One killed in Burma Oakkan town religious violence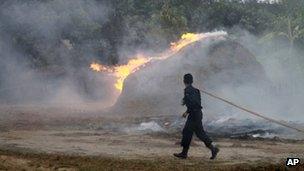 Fresh religious violence that erupted in Burma on Tuesday killed one person and injured nine more, officials say.
The anti-Muslim violence broke out in Oakkan, north of Rangoon, after a Muslim girl on a bike bumped into a monk.
Police say they have arrested 18 people after Buddhist mobs attacked mosques and torched at least 77 homes.
Last month, at least 40 people were killed in anti-Muslim riots in Meiktila in central Burma.
At least one of two mosques near Oakkan was badly damaged by the riots and some shophouses were also destroyed.
Soe Myint, a resident of Mie Laung Sakhan village, told AFP news agency: "About 200 to 300 people arrived in our village on motorcycles and destroyed the mosque. All the villagers ran away. We were scared and didn't resist. They destroyed until they were satisfied."
Terrified families could be seen hiding in forests and crouching in paddy fields as their homes burned, AP news agency reported.
Police were deployed to Oakkan on Wednesday to prevent any further violence. Army soldiers were also seen in Oakkan on Tuesday night.
Last year, deadly clashes between Rakhine Buddhists and Muslims, largely thought to be Rohingya Muslims, left 190 people dead and 100,000 people - mostly Muslims - displaced.
In March, a dispute at a gold shop in the central town of Meiktila led to more violence between Buddhists and Muslims. Entire Muslim neighbourhoods were razed, more than 40 people were killed and about 12,000 Muslims were thought to have fled their homes.
The violence has posed a challenge to Burmese President Thein Sein, who has previously warned that the government would use force if necessary to stop "political opportunists and religious extremists" from fomenting hatred between faiths.
On Monday, an official commission delivered its report on the Rakhine clashes.
It recommended doubling the number of security forces in Rakhine state, and said that the segregation of Muslim Rohingyas and Buddhists should continue, although it acknowledged that that was not a suitable long-term solution.
The Burmese government does not recognise the Rohingya as Burmese citizens, saying they are relatively recent migrants from the Indian sub-continent. The UN says the Rohingya are one of the world's most persecuted minorities.