Fresh religious violence in Burma's Oakkan town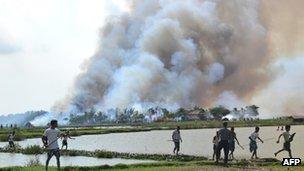 Crowds of Buddhists are reported to have attacked several Muslim properties and a mosque in Oakkan, a town near Burma's largest city, Rangoon.
Writing on his Facebook page, the president's spokesman Ye Htut said the situation was now under control.
Religious tensions are high in Burma. In March, at least 40 people died when anti-Muslim violence erupted in the central town of Meiktila.
On Monday, an official commission reported on deadly clashes in 2012.
It recommended doubling the number of security forces in Rakhine state, which saw two bouts of ethnic clashes last year which left 190 people dead and 100,000 displaced.
It also said that the segregation of Muslim Rohingyas and Buddhists should continue, but acknowledged that was not a suitable long-term solution.
The Rohingyas are a stateless group who are not recognised as Burmese citizens.
The violence in Oakkan erupted after a woman accidentally bumped into a novice monk and knocked his alms bowl onto the ground, the AFP news agency cited Ye Htut's Facebook post as saying.
He also reportedly said police had to fire warning shots to disperse the crowds and that despite some shops being destroyed, no buildings were burned down.
"There were some attacks to the mosque by throwing with stones. No casualties were reported," a police official also told AFP.