Bomb attack on Karachi election meeting kills 10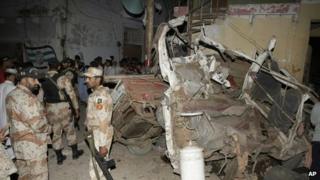 At least 10 people have been killed in a bomb attack on an election meeting in the southern Pakistani city of Karachi.
Police said a device had exploded near the office of the Awami National Party (ANP) in the western area of Mominabad.
The apparent target was an ANP National Assembly candidate scheduled to address the meeting, Bashir Jan, who survived.
The Taliban said it carried out the attack as part of the group's policy to target secular political parties who have spoken of fighting against it.
It is the third bombing by the Taliban in Karachi since Wednesday.
The previous two, which targeted the election offices of the Muttahida Qaumi Movement (MQM), left 11 people dead.
Twenty-five people were also injured in Friday's attack on the ANP.
The bomb blast was heard several kilometres away and damaged nearby shops and houses, witnesses told the AFP news agency.
The BBC's Shahzeb Jillani in Karachi says security fears are growing in many parts of Pakistan in the run-up to a general election due on 11 May.