'Safe toilets' needed for Afghanistan's female police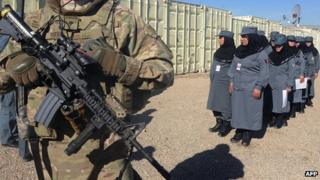 Female police officers in Afghanistan should be provided with separate changing rooms and toilets to protect them from sexual harassment or assault, Human Rights Watch (HRW) says.
Women - who make up 1% of the police force - are often targeted by predatory colleagues while using shared toilets.
Many facilities have peepholes or no locks, so female officers stand guard for each other, HRW said.
There was no immediate response from the government or police.
Kabul's police chief recently issued an order for the provision of private toilets for women in provincial police stations, but the New York-based rights organisation says similar directives have not been implemented in the past.
There are about 1,500 women officers serving in Afghanistan's Western-funded police force - a number which the interior ministry wants to increase to 5,000 by 2014.
But as the number of female officers has risen, so have allegations of rape, assault or sexual harassment by male colleagues, HRW says.
'Everyday experience'
After the Taliban were driven from power in 2001, women in Afghanistan, even in conservative areas in the south, returned to jobs as teachers, civil servants and health workers.
But the intimidation of women has increased as the Taliban have regained strength in those areas.
Violence against women, said to be endemic in Afghanistan, is rarely reported or leads to prosecution or convictions.
"Harassment and abuse is an everyday experience for many Afghan women," said Brad Adams, HRW's Asia director.
"Without the consistent presence of female police officers across the country, legal protections for women will remain an unfulfilled promise."
Employing more female officers could encourage more women to report harassment, assault or rape, say human rights organisations.
Female police officers also play a crucial counter-insurgency role in Afghanistan, for example body-searching women at checkpoints and government facilities.