IAEA calls for improvements at Japan's Fukushima plant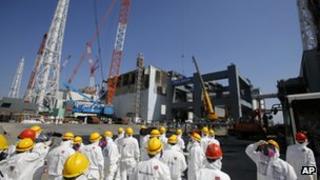 The UN nuclear watchdog has called on the operators of Japan's Fukushima plant to improve "essential systems" amid continued leaks and power cuts.
Hours earlier, the plant operator switched off a reactor cooling system after discovering rats near critical equipment.
The tsunami-crippled plant has suffered three power failures in five weeks.
The agency inspected the site at the request of the Japanese government.
"Tepco (Tokyo Electric Power) should continue its efforts to improve the reliability of essential systems, to assess the structural integrity of site facilities and to enhance protection against external hazards," the International Atomic Energy Agency (IAEA) said on Monday.
The IAEA statement was released hours after Tepco temporarily shut down the cooling system in the second unit's spent fuel pool following the discovery of dead rodents near a transformer.
The measure was necessary to allow workers to remove the bodies and to assess any damage.
The inspection was expected to last three to four hours, with an increase in temperature of less than 1C, Tepco officials said.
Rats were also believed to have caused two power cuts in the last month, shutting down some of the plant's cooling systems for spent fuel pools.
The head of the IAEA team, Juan Carlos Lentijo, suggested on Monday that the cleanup at the plant would take up to 40 years.
"In my view, it will be near impossible to ensure the time for the decommissioning (for) such a complex facility in less than 30, 40 years as it is currently established in the roadmap," he said.
Tsunami
In early April, the cooling system at one of the pools containing spent - but highly radioactive - fuel rods in reactor number three broke down for about three hours.
In March, a power cut shut cooling systems for four spent fuel ponds.
Tepco officials said a rat had damaged the electrics, causing a short circuit in a switchboard and triggering the power cut.
A leak of radioactive water from one of the plant's underground storage pools was also detected in April.
The IAEA sent a team of experts to the Fukushima Daiichi power plant from 15 to 22 April to review the government's decommissioning plans for the plant.
The agency is expected to deliver a final report on the site within one month.
On 11 March 2011, an earthquake and tsunami crippled the plant. Waves knocked out cooling systems for the reactors, leading to meltdowns at three of them.
Engineers have since stabilised the plant but years of work lie ahead to fully contain the disaster and tackle its effects.
Tens of thousands of evacuees remain unable to return home.