Pakistani army appeals for aid for quake-hit Balochistan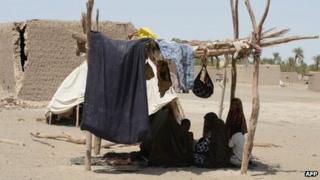 The Pakistani army has asked aid agencies to help with relief efforts in an area in the south-west of the country hit by a powerful earthquake.
Troops were deployed after the 7.8-magnitude quake struck over the border in Iran on Tuesday, affecting the Mashkel area of Balochistan province.
An army spokesman told the BBC that the army alone did not have the capacity to provide relief in the weeks ahead.
The quake killed 35 people in Pakistan and left thousands homeless.
Pakistan's National Disaster Management Authority say a further 150 people have been injured. Iranian media reported that one person had been killed in Iran.
It was the most powerful earthquake to hit Iran in more than 50 years, and shook tall buildings as far away as India and the Gulf States.
The quake completely or partially destroyed hundreds of mud houses, with thousands forced to spend a third day under open skies, the BBC's Shahzeb Jillani reports.
Mashkel is a remote district of the province which can take 10 to twelve hours to reach from the provincial capital, Quetta.
Offers of help
Since Tuesday, the army has sprung into action to fly helicopters to deliver medicines, rations and tents to the earthquake survivors.
Many believe the army is keen to project its soft image in an otherwise hostile part of the country, where they are opposed by separatist insurgents and extremist Sunni groups.
UN Secretary General Ban Ki-moon issued a statement on Wednesday saying the UN stood ready to help "if asked to do so" and the US has also offered assistance.
Tuesday's earthquake was about 180 times stronger in energy release than a 6.3-magnitude quake that struck on 10 April near the nuclear plant at Bushehr in south-western Iran. That quake killed at least 37 people and wounded 850.
Scientists say earthquakes in south-eastern Iran are triggered by the clash between the Arabia and Eurasia tectonic plates, the former of which is pushing north at a rate of several centimetres each year.
In 2003, a 6.6-magnitude quake destroyed much of the south-eastern city of Bam and killed some 26,000 people.