Amnesty: Indonesia 'failing to uphold' Aceh peace terms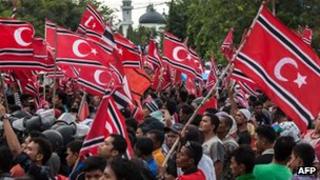 Indonesia has failed to uphold its 2005 peace agreement commitments with Aceh province, a new report says.
The region could see renewed violence if these issues are not addressed, the Amnesty International report warns.
It says victims are still waiting for justice due to the government's failure to establish a truth commission.
Rights groups say at least 15,000 were killed in the 30 years of fighting between the Indonesia military and the Free Aceh Movement.
The war ended in 2005 after the two sides signed a peace deal giving Aceh more autonomy.
Both sides are accused of human rights abuses.
Victims are still waiting for justice, truth and reparation almost eight years after the conflict, the report says.
"Family members still do not know what has happened to disappeared loved ones and are struggling to get by, while those responsible walk free," Isabelle Arradon, Amnesty International's deputy Asia Pacific director, said.
"The situation is breeding resentment that could sow the seeds of a future return to violence," she added.
One Aceh resident, Murtala, told the BBC Indonesian service his father had been arrested by mistake.
"The following year, in 1999, my brother was killed, and then another brother. We don't know where their graves are," he said.
"My brothers' children are also asking where their fathers' graves are. This is our burden, our sadness."
There has been no response to the report from the Indonesian government so far.
A presidential spokesman told the BBC that he had not read the report yet and so could not comment.
Tensions between Jakarta and Aceh have been running high recently over the decision by Aceh's parliament to use the flag of the now defunct separatist Free Aceh Movement as its official symbol, the BBC's Karishma Vaswani in Jakarta reports.