Taiwan holds first live-fire military drill since 2008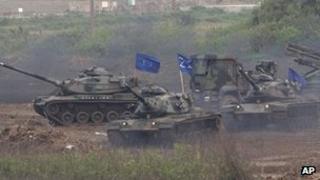 Taiwan has held a live-fire military drill for the first time since 2008.
The drill, which involved its army, navy and air force, simulated a Chinese attack on Taiwan's Penghu Islands.
It is the first time live ammunition has been used in Taiwan's annual military drills since Ma Ying-jeou became president.
China, which views Taiwan as part of its territory, released a defence white paper on Tuesday criticising "Taiwan independence separatist forces".
The operation involved the test of Taiwan's Thunderbolt-2000 multiple rocket launch system for the first time, military officials said.
"[In] the past few years, the Chinese communists have conducted a massive build-up in both quality and quantity following fast economic development," President Ma Ying-jeou said.
"In the fact of the threat, we have to make some preparations if we are to sustain peace in the Taiwan Strait."
Cross-strait relations have improved since Mr Ma assumed office in 2008, but he has come under criticism for getting too close to China, correspondents say.