Pakistan election rally hit by deadly bomb attack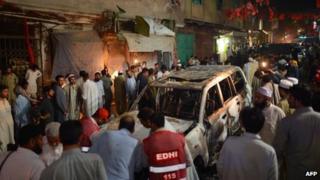 At least 17 people have been killed and many injured in Pakistan after a suicide bomb attack in Peshawar.
The Awami National Party (ANP), which governed the restive Khyber Pakhtunkhwa province, had called the political rally ahead of next month's elections.
The Pakistani Taliban, which has repeatedly targeted the ANP, said it had carried out the attack.
The polls are expected to mark the country's first-ever civilian-to-civilian transfer of power.
Local television streamed live images of vehicles burning and people trying to reach the wounded amid clouds of smoke.
Senior ANP leader Ghulam Bilour, who served as railways minister in the outgoing government, escaped the blast with minor injuries, police said.
The ANP is one of three parties recently named by a spokesman of the Pakistani Taliban as "legitimate" targets for militant attacks during the elections.
The other two parties are the Karachi-based MQM, and the Pakistan People's Party (PPP).
The three parties are secular and dominated Pakistan's last government that completed its five-year term last month.
A recent report by BBC Urdu said that more than 700 ANP activists had been killed by snipers or suicide bombers during the last four years, including a top party leader, Bashir Bilour - the brother of Ghulam.
In recent weeks, low-intensity bombs have gone off at several local ANP election meetings, which analysts say have reduced the party's ability to conduct an open campaign.
On Sunday, the Pakistani Taliban attacked two ANP leaders, killing one and wounding the other.