UNODC report: East Asia organised crime 'worth $90bn'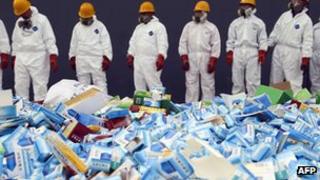 Organised crime in East Asia and the Pacific is worth approximately $90bn (£58bn), with counterfeit goods accounting for about a third of that figure, a new UN report says.
It says that the amount is roughly twice the size of Burma's GDP.
The report estimates the annual revenues generated by criminal activities, including fake goods, narcotics, and human trafficking.
Illegal drugs make up approximately another third of the total.
The UN Office on Drugs and Crime (UNODC) says its report is the first comprehensive study of transnational organised crime.
It estimates that the most lucrative trades for criminals in east Asia and the Pacific are counterfeit goods ($24.4bn; £15.9bn), illegal wood products ($17bn; £11bn), heroin ($16.3bn; £10.6bn) methamphetamines ($15bn; £9.8bn) and fake medicines ($5bn; £3.3bn).
China was said to be the largest source of counterfeit goods.
75% of counterfeit products seized worldwide from 2008 to 2010 were made in east Asia, and China was the primary producer, the report said, citing the World Customs Organisation.
'Serious consequences'
Meanwhile, an estimated 65,000 kg (143,300 lb) of heroin was consumed in the region in 2011, the report said.
It said the majority of heroin users resided in China, and the majority of regional heroin production came from Burma.
Large numbers of people were also affected by fake medicines that primarily came from India and China, the report said.
"Between one third to 90% of anti-malarial drugs tested in Southeast Asia are fraudulent," Jeremy Douglas, a UNODC representative, said.
This had serious consequences as patients could get sicker or die, and drug-resistant strains could develop, he added.