Obama to meet South Korea's Park Geun-hye in May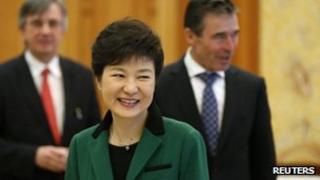 US President Barack Obama will meet South Korean President Park Geun-hye in Washington on 7 May amid high tensions on the Korean peninsula.
The meeting will cover economic and security issues, officials say.
In recent weeks, the North has threatened to attack South Korea, Japan and US bases in the region.
On Tuesday, a US military helicopter crashed near the North Korean border. There were no casualties and the incident is under investigation.
There were 21 people on board the helicopter that "executed a hard landing", a statement from the United States Forces Korea said.
"The crew is from the 31st Marine Expeditionary Unit and is stationed in Okinawa, Japan," it added.
Tensions have been high on the Korean peninsula since North Korea conducted its third underground nuclear test on 12 February, which resulted in sanctions from the UN.
North Korean ambassador to the UK, Hyon Hak-bong, said his country was not the cause of the current tension but was only responding to US aggression.
He told Britain's Marxist-Leninist Communist Party in a rare speech that North Korea's threat to launch a nuclear strike against the US was due to Washington's large-scale military exercises with the South.
He said North Korea was facing a "grave situation", with 200,000 US troops staging drills in the South and warnings from both countries of a military response to any provocation.
He also cited the condemnation of Pyongyang's satellite launch on 12 December as a reason.
While Mr Hyon's stance is not new, the fact that he spelled out his government's position in public like this is striking, says the BBC's Lucy Williamson in Seoul.
North Korea on Monday rejected calls for talks by the US and South Korea, but its rhetoric does appear to have lessened recently, and regional fears of a missile launch have so far not been realised, our correspondent adds.
Stronger ties
In May, the scheduled talks between Mr Obama and Ms Park would touch on "continued co-operation on denuclearisation of the Korean peninsula and countering the North Korean threat," a statement from the White House on Monday said.
"They will also review the progress made in strengthening our economic ties and in enhancing and modernising bilateral security co-operation," the statement added.
Ms Park's scheduled talk with Mr Obama follows a meeting with US Secretary of State John Kerry, who was in Seoul on 12 April as part of his tour of Asia.
She was elected in December and assumed office on 25 February.
The announcement of the meeting came as North Korea marked the 101st anniversary of the birth of founding father Kim Il-sung.
Protesters in South Korea's capital, Seoul, burned portraits of Kim Jong-un, his father Kim Jong-il, and grandfather Kim Il-sung on Monday.
In response, North Korea through its official news agency KCNA issued an "ultimatum" against the South if it did not apologise for the protests.
"Our retaliatory action will start without any notice," KCNA said.
"The military demonstration... will be powerful sledge-hammer blows at all hostile forces hurting the dignity of the supreme leadership," it added.
South Korea's defence ministry said the North's ultimatum was "regrettable" and that its provocations were "illegal".
"We will retaliate thoroughly and resolutely to provocations staged for any reasons," the ministry's spokesman, Kim Min-seok, said.
A heightened state of vigilance has been in place for the past few days in South Korea, with the country's defence ministry saying that the North could still test fire an intermediate range missile.
There was speculation that the North would use Kim Il-sung's birth anniversary for a missile launch, following reports that it had moved at least two Musudan ballistic missiles to its east coast.
But the celebration was relatively quiet. North Korean leader Kim Jong-un marked the occasion with a visit to his grandfather's mausoleum, KCNA says.
He also attended basketball and volleyball games between military academies, which state media call "anti-American games", and watched a concert, it added.
At this time last year, North Korea launched a rocket with the stated aim of putting a satellite into orbit to mark the 100th anniversary of Kim Il-sung's birth. The rocket broke up shortly after take-off.
The UN Security Council condemned the launch, which many outside the country saw as an illegal test of long-range missile technology.
Kim Il-sung died in 1994, and was succeeded by Kim Jong-un's father Kim Jong-il, until his death in 2011.