Gujarat's Asiatic lions must be shared - Indian court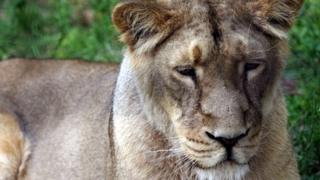 India's Supreme Court has ordered the western state of Gujarat to share some of its endangered lions with the neighbouring state of Madhya Pradesh.
Asiatic lions have been almost wiped out in India but conservation efforts by Gujarat during the last 50 years have saved them from extinction.
Political leaders there had resisted efforts to relocate some of the lions.
But the court said the animals should have a second home to stop them being eliminated by an epidemic or a fire.
There are thought to be around 400 Asiatic lions in Gujarat's Gir forests.
The exact number to be moved to a forest sanctuary in Madhya Pradesh - which is more rural - will be determined at a later date.
Gujarat had opposed the appeal of Madhya Pradesh, pointing to its neighbour's poor record on protecting its own tiger population in the Panna reserve forest.
But the court gave wildlife authorities six months to complete the transfer.
It also ruled against government plans to introduce African cheetahs by importing them from Namibia.
The cheetah became extinct in India nearly half a century ago.