North Korea marks birthday of Kim Il-sung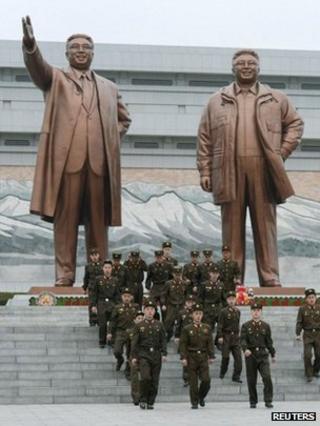 North Korea has marked the 101st anniversary of the birth of founding father Kim Il-sung as tensions continue over the country's nuclear programme.
Leader Kim Jong-un visited the mausoleum of his grandfather and his father Kim Jong-il in Pyongyang, the official KCNA news agency reports.
Despite the apparent celebrations, South Korea remains on high alert.
In recent weeks the North has threatened to attack South Korea, Japan and US bases in the region.
The US has ruled out holding any more "artificial talks" with the North.
"We cannot continue this charade and we cannot have a policy of rhetoric about denuclearisation. There have to be real steps here," Secretary of State John Kerry told the BBC after talks with leaders in Japan following a tour of East Asia.
Mr Kerry said the North's main diplomatic ally, China, had made a very strong statement criticising Pyongyang for its recent behaviour. He said he hoped Beijing was now recognising the regional instability created by the actions of Kim Jong-un.
A heightened state of vigilance has been in place for the past five days in South Korea and the defence ministry has said it believes the test firing of an intermediate range missile could still be imminent,
After Pyongang dismissed an offer of dialogue from South Korea on Sunday as a "crafty trick", Seoul announced on Monday that it would provide aid and co-operation to the North, if it made the "right choice", Yonhap news agency reported.
Red-letter day
Early on Monday Mr Kim was at the Kumsusan mausoleum to pay "high tribute and humblest reverence" to the country's former leaders, KCNA reports.
The streets of Pyongyang were adorned with flags and banners for the holiday, a red-letter day for one of the world's most powerful cults of personality, says the BBC's John Sudworth in Seoul.
It was a reminder perhaps of what really lies behind the recent bellicose threats - a need to ensure the regime's survival, our correspondent adds.
Tensions have been high on the Korean peninsula after North Korea conducted its third underground nuclear test on 12 February that resulted in sanctions from the UN.
There has been speculation that the North will use Kim Il-sung's birthday for a missile launch.
At this time last year, it launched a rocket with the stated aim of putting a satellite into orbit to mark the 100th anniversary of Kim Il-sung's birth. The rocket broke up shortly after take-off.
The UN Security Council condemned the launch, which many outside the country saw as an illegal test of long-range missile technology.
Kim Il-sung died in 1994, and was succeeded by Kim Jong-un's father Kim Jong-il, until his death in 2011.
Fiery rhetoric
Speculation has been building that the North is preparing a missile launch, following reports that it has moved at least two Musudan ballistic missiles to its east coast.
South Korean Defence Minister Kim Kwan-jin told a parliamentary committee on Monday that Pyongyang still appeared poised to fire off a missile, adding that Seoul was fully prepared for an attack.
Japan is also within range of Musudan rockets and has been taking precautions, including setting up batteries of US-made Patriot anti-missile systems around the capital and sending two warships to the Sea of Japan, with orders to shoot down any missiles fired towards the Japanese islands.
Speaking in Tokyo at the end of a four-day trip to the region on Monday, US Secretary of State John Kerry called on North Korea's leaders to take "meaningful steps" towards "denuclearisation".
He had earlier urged them to "come to the table in a responsible way" to end regional tensions, warning Pyongyang risked further isolation if its threats continued.
He also reaffirmed the US commitment to defend its allies, including Japan.
Washington and Tokyo have a security alliance dating back to the 1950s, under which Washington is bound to protect Japan if it is attacked.
North Korea habitually issues fiery statements denouncing the US and South Korea, but the rhetoric has grown increasingly aggressive since the UN imposed a fresh round of sanctions in March.
Pyongyang has also been angered by joint military manoeuvres by the US and South Korea, which it says are preparations for war.
It has responded by vowing to restart an inactive nuclear reactor, shut an emergency military hotline to the South and by urging countries to withdraw their diplomatic staff, saying it cannot now guarantee their safety.
Some estimates suggest that the Musudan missiles which North Korea has moved to its east coast could travel 4,000km (2,500 miles).
That would put US bases on the Pacific island of Guam within range, although the exact threat is unclear as it is not believed that the Musudan has been tested before.
Mr Kerry has stressed that it would be a "huge mistake" for the North to go ahead with a launch, saying it would further isolate North Korea and that the people of the country are in need of food, not missiles.