Pakistan bus bombing kills eight in Peshawar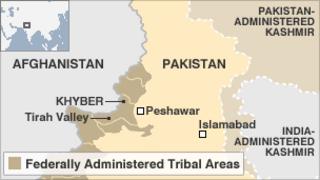 At least eight people have been killed in a bomb explosion on a bus in Peshawar in north-western Pakistan.
Police said the attack happened as the bus was travelling though a busy market in suburb of the city, on its way to a nearby town.
At least seven passengers were reported injured, among them women and children.
No-one has said they carried out the attack, but Peshawar has been routinely attacked by the Pakistan Taliban, which is battling state security forces.
The driver of the bus was not injured, and told reporters that a bomb had been planted under a seat.
Police said they were investigating whether a suicide bomber was responsible.
There have recently been fresh military operations against Taliban militants in the Khyber tribal region between Peshawar and the border with Afghanistan.