Burma riots: Muslim gold shop workers jailed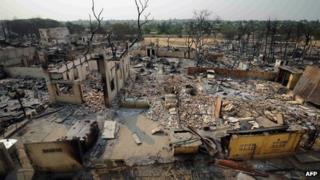 A court in Burma has sentenced three Muslims to 14 years in jail for their role in communal violence that has left more than 40 dead.
The owner of a gold shop, his wife, and an employee, were convicted of theft and assault on Thursday, reports said.
A dispute at the gold shop in Meiktila is thought to have triggered deadly clashes between Burma's Muslim and Buddhist communities.
The violence spread to other towns and led to curfews being imposed.
More than 12,000 Muslims have been displaced from their homes since the clashes began on 20 March. Whole Muslim neighbourhoods have been destroyed.
The row at the shop was said to have started over a gold hair clip. A fight broke out, and the store owner reportedly beat a Buddhist customer on the head.
This was followed by an attack on a Buddhist monk, who died later in the town hospital.
News of the incidents sparked off sustained communal violence, and a state of emergency was imposed in Meiktila and three other towns.
'Religious extremists'
State prosecutors say they are building several cases against dozens of people allegedly involved in the unrest, including both Buddhists and Muslims, AP news agency reports.
Last month, Burmese president Thein Sein warned that the government would use force if necessary to stop "political opportunists and religious extremists" from fomenting hatred between faiths.
"All perpetrators of violence will be prosecuted to the fullest extent of the law," he said.
The conflict is the worst since violence in Rakhine state last year, where nearly 200 people were killed and tens of thousands forced from their homes.
The conflict that erupted in Rakhine involved Buddhists and Rohingya Muslims, who are not recognised as Burmese citizens. Scores of Rohingyas have fled what they say is persecution in Burma in recent months.