Nepal uses yoga to 'slim down' police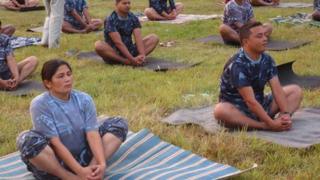 The police force in Nepal has introduced yoga lessons in an effort to slim down some of its heavier members.
Officers at the Kathmandu HQ said they were concerned some staff were becoming too fat to carry out their duties.
Obesity is an issue for many of Nepal's male and female officers who, once qualified, often forego the daily physical exercise they had to take to qualify for the force.
Many get almost no exercise while working, as their jobs are desk-based.
Added to this is the popularity of eating large servings of white rice with every meal, as well as sweets loaded with sugar and milk.
'Large bellies'
Police spokesman Keshav Adhikari said almost all police stations in Nepal would start offering yoga to their staff.
"The police have become inactive because of unnecessary development of their body," he said.
Yoga classes have already begun in both Kathmandu and the east of the country.
In the eastern district of Jhapa, more than 70 police officers and constables have been enrolled in a three-week yoga camp.
The yoga takes place early in the morning and includes special positions designed to reduce stomach size and obesity.
"I have ordered the officers and the constables who have large bellies to join this camp," Senior Superintendent Keshari Raj Ghimire told the BBC.
One of the participants, Sub-Inspector Bikram Khadka, said the yoga camp had helped him realise how to take his weight problem.
"I was not conscious about diet before but now I have got an idea to eat a useful amount only," he said.