Five Indian UN troops killed in South Sudan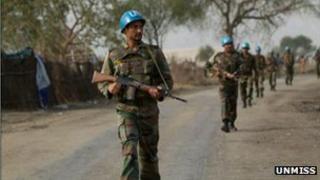 Five Indian peacekeepers escorting a UN convoy in South Sudan have been killed in an ambush by rebels, the office for the UN secretary-general has said.
The peacekeepers were serving with the UN Mission in the Republic of South Sudan (Unmiss).
Two Unmiss national staff and five civilian staff contractors were also killed in the attack. Nine others were injured, some seriously.
The violence happened in Jonglei state, a haven for armed groups.
Unmiss has been in South Sudan since the country's creation in 2011, with a remit to preserve peace and security.
In a statement, UN Secretary-General Ban Ki-moon said he was "appalled" by the attack in Gumuruk, and called on "the government of South Sudan to bring the perpetrators of this crime to justice".
The Indian foreign ministry said arrangements were being made to repatriate the bodies of the Indian nationals.
Correspondents say that Jonglei has been hit by widespread ethnic violence since South Sudan became independent from Sudan in July 2011 - with much of it taking place in Pibor county, where the UN peacekeeping force is based.
South Sudan's military spokesman, Col Philip Aguer, blamed Tuesday's attack on militants led David Yau Yau, who South Sudan says is being armed by Sudan.
Unmiss chief Hilde Johnson said last month that the government was expected soon to launch an offensive against fighters loyal to Mr Yau Yau in Jonglei.
On Monday Ms Johnson urged authorities and communities in Jonglei state "to take all necessary steps to prevent inter-communal violence and attacks by armed groups which are threatening civilians and spurring a deadly cycle of violence".
"The destabilisation of Jonglei must stop," she said.
Insecurity in the state has been exacerbated by a cattle-raiding feud between rival ethnic groups, which has left hundreds of people dead and some 100,000 displaced since independence.
India is a major contributor to UN peacekeeping forces around the world and has suffered losses in the past.