China closes Nanjing market over H7N9 bird flu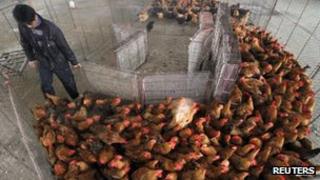 China has confirmed two fresh cases of bird flu in Shanghai, as it attempts to contain the latest outbreak of the virus in the east of the country.
There have now been 18 identified cases of infection of the H7N9 strain.
Six people have died, and the World Health Organization (WHO) said a further 8 cases were "severe".
In response, Chinese authorities have extended a ban on poultry trading to the city of Nanjing, having earlier closed markets in Shanghai.
China's state-run news agency Xinhua said authorities had already culled tens of thousands of birds at two Shanghai poultry markets, where traces of the virus had been found earlier in the week.
Local officials in Nanjing said the virus had not been detected at its poultry markets, suggesting the trading ban is a precaution.
Live bird markets are the traditional way that poultry is sold in China.
In a statement, the WHO reiterated that there was not yet any evidence of human-to-human transmission of the virus.
But it said that more than 500 "close contacts" of the 18 people infected were being closely monitored.
It was also investigating a case in Jiangsu province where an individual in contact with an earlier confirmed case of bird flu had developed "symptoms of illness".
The H7N9 strain is a form of avian flu not previously found in humans.
It is distinct from the H5N1 bird flu virus that has caused more than 360 deaths worldwide since it was found in humans in 2003.