US navy reassigns sailors over Philippine reef crash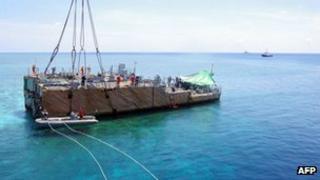 Four navy officers of a US minesweeper that ran aground on a Philippines protected coral reef have been relieved of their duties, officials say.
Initial findings showed that the men, including the commanding officer, did not follow standard procedure, according to a navy statement.
The US could face a fine of more than $2m (£1.3m) for damaging the Tubbataha Reef, a Unesco World Heritage site.
The USS Guardian struck the reef south-east of Palawan island on 17 January.
The four officers have been reassigned while investigations continue, according to reports.
The USS Guardian was dismantled to minimise damage to the reef and the US has apologised for the accident.
An initial investigation suggested that an area of around 4,000sqm at the Tubbataha National Marine Park was affected.
The removal of sections of the ship, which measured 68m (223ft), ended on Saturday. Experts are still assessing damage to the reef.
According to Unesco, the area the ship came aground on is a "unique example of an atoll reef with a very high density of marine species". Part of it serves as a nesting site for birds and marine turtles.