Australia opens national child abuse inquiry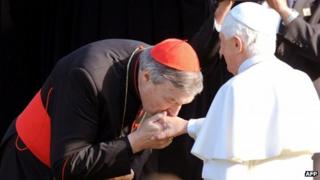 A national inquiry into child sex abuse has opened in the Australian city of Melbourne, with more than 5,000 people expected to provide evidence of "abuse and consequential trauma".
PM Julia Gillard has warned that the commission will unearth "some very uncomfortable truths".
She said that its opening was an "important moral moment" for Australia.
The inquiry will look at religious groups, NGOs and state care providers as well as government agencies.
But commission officials have warned that it is unlikely to complete its task by the end of 2015 as requested.
They say that is because the scope of the inquiry is so large - in relation to the number of people testifying and the number of institutions who may be affected by the allegations.
The probe will look into institutional responses to the sexual abuse of children.
Its formation was announced by Ms Gillard in November following pressure from lawmakers amid police claims that the Roman Catholic Church had concealed evidence of paedophile priests.
The commission was formed after revelations emerged of child abusers being moved from place to place instead of their crimes being reported and investigated. There were also accusations that adults failed to stop further acts of abuse.
Notice served
Ms Gillard told ABC radio that she wanted the commission to provide a "moment of healing" for the survivors of child sexual abuse - "because for too long, so many of these survivors have just run into closed doors and closed minds".
"And second, I want the royal commission to provide for us recommendations about the future.
"We've let children down in the past as a country. We need to learn what we can do as a nation to better protect our children in the future."
Chairman Justice Peter McClellan said that the commission had already served notice to produce documents on the Roman Catholic church and the Salvation Army.
Correspondents say that the composition of the inquiry panel is unusual - it has six commissioners, enabling one or more to sit in private to hear victims' stories over the next five months. It is estimated that each victim will need at least an hour to tell his or her story.
Justice McClellan warned that the commission would be expensive and would "require the commitment of very significant sums of public money".
Abuse of children by Roman Catholic priests has been a major issue in Australia. There have been a series of convictions but also a series of alleged cover-ups.
In September, the Roman Catholic Church in Victoria state confirmed that more than 600 children had been sexually abused by its priests since the 1930s.
Similar allegations have emerged from New South Wales where the church has been accused of silencing victims, hindering police investigations, alerting offenders, destroying evidence and moving priests to protect them from prosecution.
During a visit to Australia in July 2008, Pope Benedict XVI met some of the victims and made a public apology for the abuse.