Sri Lanka Matale mass grave 'dates from late 1980s'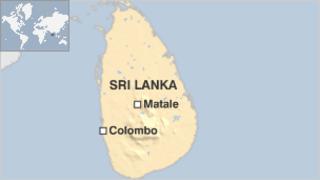 A Sri Lankan forensic archaeologist says a mass grave discovered in November is roughly 25 years old.
His conclusions have strengthened arguments that the 150 bodies are those of leftist insurgents who launched a failed revolution in the late 1980s.
Early accounts given by officials when the grave was first unearthed suggested the deaths might not have been political in nature.
But the leftist JVP is calling for a full investigation of what happened.
The JVP, or People's Liberation Front, is the political party which spawned the insurgents.
'Crime' site
Archaeologist Raj Somadeva is one of several experts investigating the grave in the central town of Matale. He told the BBC that he believed that the skeletons dated to between 1986 and 1990.
Magistrate Chathurika de Silva told a Matale court that a parallel investigation by a judicial medical officer reached the same conclusion on the dates, according to the Associated Press.
It was during construction work on the Matale district hospital that the first sets of human remains were unearthed.
As the weeks went by more skeletons were found, buried in neat rows stacked on top of each other.
Other investigations including a geological one are still under way.
In December the medical specialist involved in the excavation told the BBC it appeared to be the site of a "crime" as it was not a regular place of burial.
This contradicted other assertions that those buried might have been smallpox victims or people killed in a landslide in the 1940s.
Matale was an epicentre of the late 1980s insurgency by a Sinhalese leftist group, the JVP, in which the state matched the guerrillas' extreme violence with equal bloodshed.
Thousands of prisoners were rounded up and many subsequently "disappeared" - thousands of others were burnt to death or decapitated.
The insurgency was separate from the Tamil separatist one then under way in the north and east, although the politics were linked in part because of the JVP's strident opposition to minority separatism or autonomy.
An MP in the JVP's now tiny parliamentary party, Anura Dissanayake, told the AFP news agency the dating of the grave showed that the victims were killed during its uprising.
"We want this thoroughly probed and [the] perpetrators brought to justice," he said.