Pakistan's caretaker PM Mir Hazar Khan Khoso sworn in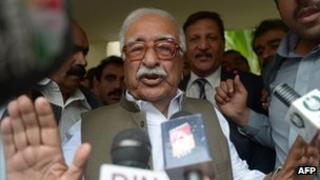 Retired senior judge Mir Hazar Khan Khoso has been sworn in as Pakistan's caretaker prime minister, ahead of parliamentary elections due in May.
The election commission picked the 84-year-old after politicians failed to agree a consensus candidate.
He comes from Pakistan's troubled Balochistan province and is seen as the least controversial of the candidates.
If polls take place on time without bloodshed, it will be Pakistan's first democratic transfer of power.
On Sunday Pakistan's former military ruler Pervez Musharraf returned to Pakistan, ending four years of self-imposed exile and defying death threats.
He intends to to lead his party in the May general election.
The former military leader has lived in London and Dubai since stepping down five years ago. He left Pakistan in 2009.
He has vowed to return several times in the past, but those previous attempts have been abandoned.
Gen Musharraf is likely to face stiff opposition from the man he ousted from office in 1999, Nawaz Sharif, who leads the PML-N party as well as cricketer-turned-politician Imran Khan and his PTI party.
And the incumbent Pakistan People's Party which has President Asif Ali Zardari at its helm is also likely to mount an energetic campaign.