Burma communal rioting spreads outside Meiktila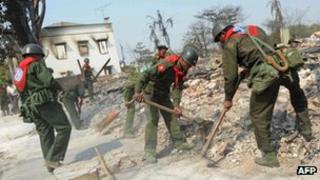 Mosques and houses have been ransacked in central Burma, the latest in a series of incidents since sectarian violence broke out in Meiktila town.
About 300 people attacked a mosque and destroyed Muslim-owned shops and houses in Oh The Kone town, about 50km (31 miles) from Rangoon, reports say.
This comes after more troops arrived in Meiktila, where at least 30 people have reportedly died since Wednesday.
An argument sparked violence between Buddhists and Muslims in the town.
Aside from Oh The Kone, it was also reported that a mosque was torched in Tatkone town, 80km from Meiktila, over the weekend. A mosque and 50 houses were also said to have been torched in nearby Yamenthin town.
It was not immediately clear who was behind the violence. No casualties have been reported from these towns so far.
The violence in Meiktila, triggered by what reports say was an argument that started in a gold shop, has displaced at least 9,000 residents, according to reports.
A local lawmaker told BBC Burmese on Friday that scores of mostly Buddhist people accused of being involved in the violence had been arrested by police.
President Thein Sein, opposition leader Aung San Suu Kyi and the speaker of parliament's lower house on Sunday issued a joint declaration in the face of the deadly communal violence.
The declaration calls for the rule of law to be restored in Meiktila, the rapid return home of thousands of displaced people and seminars and workshops on how to prevent further communal violence in the country.
The UN secretary-general's special adviser on Burma, Vijay Nambiar, visited villagers displaced by the conflict on Sunday.
Buddhist and Muslim religious leaders also spoke out on Sunday, urging respect for the law and community harmony.
This incident is the worst sectarian conflict since the violence that hit Rakhine state last year, where nearly 200 people were killed and tens of thousands forced from their homes.
The conflict that erupted in Rakhine involved Buddhists and Rohingya Muslims, who are not recognised as Burmese citizens. Scores of Rohingyas have fled what they say is persecution in Burma in recent months.