Two dead in Australia asylum boat capsize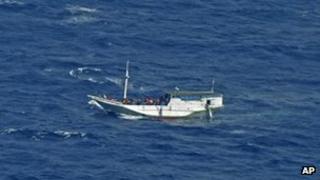 Two people have been killed and two more were critically injured after a boat carrying at least 95 asylum seekers capsized off Australia.
The boat capsized 14 nautical miles northwest of Christmas Island, often targeted by asylum seekers.
A customs vessel plucked people from the water and took them to an immigration facility on the island.
In recent months there has been a rise in the number of asylum seekers travelling to Australia by boat.
Many make their way from Afghanistan, Iraq, Iran and Sri Lanka to Indonesia, and then on to Australia by boat.
Christmas Island - which lies about 2,600km (1,600 miles) from Australia but only 300km south of Indonesia - is often targeted because it is the closest piece of Australian territory to Indonesia.
"Initial reports indicate 95 people have been recovered from the water including two deceased persons and two critically injured persons," Home Affairs Minister Jason Clare said.
He said an air and sea search was continuing, although it was not clear whether anyone was still missing.
The nationality of the asylum seekers is not yet known.
It was "a very fortunate coincidence that customs were within the vicinity and able to respond very quickly," Christmas Island Administrator Jon Stanhope told Australian broadcaster ABC.
Several boats have sunk or had to be rescued in the past as they made their way to Christmas Island.
Last year, the government re-established offshore processing camps for asylum seekers in Papua New Guinea and Nauru in a bid to deter people from making the dangerous journey across the sea to Australia.
But the offshore processing policy - and the conditions in the camps - have been heavily criticised by rights groups and UN agencies.