North Korea says US 'behind hack attack'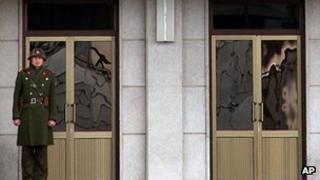 North Korea has accused the US and its allies of attacks on its internet servers, amid tension on the peninsula.
KCNA news agency said the "intensive and persistent" attacks coincided with US-South Korea military drills.
Official sites such as KCNA, Air Koryo and Rodong Sinmun, the party newspaper, are reported to have been inaccessible on some occasions in recent days.
Tension has escalated in the wake of North Korea's third nuclear test last month.
The test led to fresh UN sanctions being imposed on Pyongyang, which has responded with strong rhetoric - both to the UN move and the annual joint drills, which it bitterly opposes.
It says it has scrapped the Korean War armistice and ended non-aggression pacts with Seoul. It has also cut off a hotline that connects the two countries.
The two Koreas remain technically at war because the 1950-53 conflict ended in an armistice, not a treaty. South Korea says North Korea cannot unilaterally dissolve the armistice and has called on Pyongyang to tone down its language.
North Korea called the cyber attack a "cowardly and despicable act".
"It is nobody's secret that the US and South Korean puppet regime are massively bolstering up cyber forces in a bid to intensify the subversive activities and sabotages against the DPRK [North Korea]," KCNA said.
Accusations of cyber attacks on the peninsula usually flow in the opposite direction, says the BBC's Lucy Williamson in Seoul.
South Korean intelligence sources say North Korea routinely attempts to access the network here, and Pyongyang is believed to have broken into Defence Ministry data at least once in the past few years, our correspondent adds.
The cause of the disruption remains unclear.
Current internet access in North Korea is extremely limited for locals, with most people only having access to a small number of state-run pages. The wider internet is available only to the government and the military.