Pakistan mourns murdered aid worker Parveen Rehman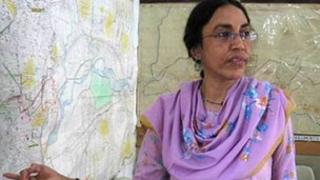 The funeral of one of Pakistan's top development workers - shot dead on Wednesday - has been held in Karachi.
Parveen Rehman was killed by four gunmen while travelling in her car near the western Orangi area of the city.
It is believed to be one of the largest squatter settlements in Asia.
Ms Rehman was head of the Orangi Pilot Project, one of Pakistan's most successful non-profit programmes, which helps local communities escape from poverty.
Scores of people attended the funeral, including relatives, friends and members of civil society.
The BBC's M Ilyas Khan in Pakistan says her death reflects the increased level of violence in the country's largest city, where scores of people this year have been killed in ethnic, sectarian and criminal violence.
Ms Rehman had been documenting land use around Karachi, which some believe may have antagonised the city's powerful land-grabbing criminal syndicates.
Ms Rehman was shot after she left her office in Orangi. She was hit twice in the neck and taken to hospital, but doctors could not revive her.
No militant group has said it carried out the attack which has devastated many residents of Orangi.
"She was a great help for us. She was just like an elder sister to whom we would go whenever a problem struck us," a resident told local media.
Ms Rehman's associates say that while she had no enemies, her work on land grabbing and illegal water hydrants in and around Karachi may have angered elements involved in the illegal multi-million rupee business.
The provincial parliament of Sindh, of which Karachi is the capital, offered a vote of condolence for her on Thursday.
In a statement the Human Rights Commission of Pakistan - an independent watchdog - called on those who "believe in freedom, justice and human rights" to stand up to the "enemy who wants to eliminate all symbols of hope".
Ms Rehman has complained in the past that she has received death threats. At one point some armed men stormed her offices and ordered her staff to leave.
In 1999 she became head of the Orangi Pilot Project (OPP), founded by development expert Akhtar Hameed Khan.
The project encourages communities to maintain their own systems for sanitation, health, housing and micro-finance.