Karzai speech 'put Nato forces at risk', commander warns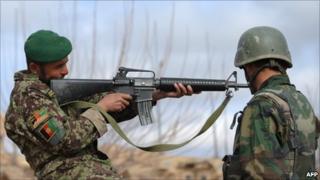 International troops in Afghanistan have been put at risk after an "inflammatory speech" by President Hamid Karzai, Nato's commander warned.
On Sunday, Mr Karzai accused the US and the Taliban of colluding to prolong the conflict in the country.
"His remarks could be a catalyst for some to lash out against our forces," US and Nato forces commander Gen Joseph Dunford said in a leaked email.
International troops are scheduled to end combat missions in 2014.
In a nationally televised speech, President Karzai referred to two Taliban attacks on Saturday in Khost and Kabul that left 19 people dead.
He suggested both the US and Taliban were trying to convince Afghans the situation would worsen after 2014.
He said: "[The] bombings in the name of the Taliban were aimed at serving the foreigners and supporting the presence of the foreigners in Afghanistan and keeping them in Afghanistan by intimidating us."
Relations at new low
In a message sent to senior military commanders, Gen Dunford said the comments might encourage Afghan security forces to attack foreign soldiers.
"President Karzai may issue orders that put our forces at risk," he wrote in the alert, known as a command threat advisory.
Gen Dunford's warning was made public after the New York Times obtained a copy of his mail.
The Nato-led International Security Assistance Force (Isaf), which oversees operations in Afghanistan, said the commander's email was "prudent".
"It's making sure the force is seeing the same thing we're seeing. It's our job to alert the force," an Isaf spokesman said.
Mr Karzai said Afghanistan had a "complex" relationship with the US.
"We want good relationships and friendship with the US but a friendship as two independent nations, between two free nations. The US has lost more than 2,000 soldiers, we share their grief. But Afghanistan has made tens of thousands of sacrifices."
Mr Karzai added that during his last visit to Washington, the US had said it considered al-Qaeda, rather than the Taliban, as the real enemy.
"If you consider al-Qaeda as enemy, they are not in Afghanistan and they are in their safe havens, outside Afghanistan," he said.
"When you, America, say the Taliban are not the enemy and al-Qaeda is the enemy, why do you arrest Afghan university students? Why are you searching Afghan houses? Stop the fight. From my perspective, there is no fight inside Afghanistan."
President Karzai has become increasingly frustrated by what he sees as American attempts to undermine Afghanistan's authority, the BBC's Quentin Sommerville reports from the capital, Kabul.
While relations between the two are at a new low, Washington insists the president's rhetoric will not affect Isaf's plans in Afghanistan, our correspondent says.
Some diplomats believe President Karzai's comments are part of an effort to harden his nationalist credentials with the Afghan people, he adds.
Mr Karzai is often criticised by the Taliban for being a puppet of Western governments, our correspondent says.
There are about 66,000 US military personal in the country. Early next year that figure will drop to 34,000.
The number of international troops that will remain after 2014 is still to be determined.