Cambodia rights campaigner Mam Sonando's sentence cut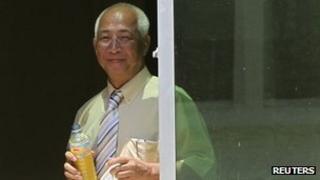 An appeals court in Cambodia has cut the jail term of a prominent journalist and land rights campaigner.
Mam Sonando, who runs a radio station, was jailed last year for 20 years on charges of inciting rebellion.
The court has now dismissed some of the charges and given Mr Sonando a suspended five year sentence instead - meaning he is likely to walk free soon.
Rights groups, who argued the charges were politically motivated, have welcomed the move.
Mr Sonando, 71, was jailed in October on charges of inciting villagers to try to form their own state in the eastern province of Kratie in May.
However, human rights groups said that the clashes between government troops and villagers occurred as they protested over land seizures by companies. A 14-year-old local girl was shot dead by security forces during the confrontation.
Mr Sonando's arrest drew international criticism, and was called a "politically motivated farce" by London-based rights group Global Witness.
The appeals court has now thrown out the charges of inciting rebellion, but says it still finds him guilty of instigating villagers to destroy state land, although it will not require him to serve any more prison time.
Hundreds of people waiting outside the courthouse cheered when they heard the decision, news agency AP reported.
In a statement, campaign group Amnesty International called the move "a step in the right direction for freedom of expression".
However, "the introduction of new charges at such a late stage raises concerns about the fairness of the proceedings, while the suspended sentence may be designed to silence Mam Sonando," it said.
Mr Sonando is the president of a pro-democracy movement and a long-time critic of Hun Sen, who has been in power since 1985.
His radio station allows dissident opinions against the government.