Khmer Rouge senior leader Ieng Sary dies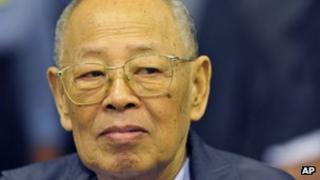 Former senior Khmer Rouge leader Ieng Sary has died, Cambodia's UN-backed court has announced.
The 87-year-old was on trial for genocide committed under the 1975-79 Maoist regime at the time of his death.
He served as the regime's foreign minister and was often the only point of contact between Cambodia's rulers and the outside world.
He and three co-defendants were accused of leading a campaign of mass murder in which up to two million people died.
"We can confirm that Ieng Sary died this morning after being hospitalised since 4 March," court spokesman Lars Olsen said.
Ieng Sary, who was also known as "Brother Number Three", went on trial in November 2011 along with "Brother Number Two" Nuon Chea and former head of state Khieu Samphan. All three denied the charges.
His wife, Ieng Thirith, was also prosecuted, but was found incapable of standing trial because of ill health. She is thought to be suffering from Alzheimer's disease.
Ieng Sary was the brother-in-law of the Khmer Rouge leader, "Brother Number One" Pol Pot, with whom he founded the organisation. Pol Pot died in 1998 while hiding in Cambodia's jungles.
'Manipulative'
As foreign minister, Ieng Sary was said to have been responsible for convincing many educated Cambodians who had fled the Khmer Rouge to return to help rebuild the country.
Many were then tortured and executed as part of the purge of intellectuals.
Ieng Sary defected from the Khmer Rouge in 1996 as it began to fall apart, and was granted a pardon.
However the establishment of an international tribunal led to his arrest six years ago.
Ieng Sary was known as a strong believer in the Khmer Rouge's extremist revolutionary ideas, and was often described as a duplicitous and manipulative man, the BBC's South East Asia correspondent Jonathan Head reports.
His death has exposed the limitations of the slow-moving tribunal, which comprises both Cambodian and international judges, our correspondent adds.
Many Cambodians have expressed frustration at the pace of the UN-backed genocide court, voicing concern that remaining defendants may die before being brought to justice.
"We are disappointed that we could not complete the proceeding against Ieng Sary,'' Mr Olsen said.
However, the case against the remaining two defendants would continue and would not be affected, he added.
Rights group Amnesty International has called "for an expeditious trial" of Nuon Chea and Khieu Samphan, "with fair trial rights respected".
"The Cambodian government and donor countries should provide the full resources required for the proceedings in this case and others to move forward, so that justice can be served," it said in a statement.
The only former Khmer Rouge leader to have been successfully prosecuted was chief jailer Kaing Guek Eav, known as Duch, who was sentenced to life imprisonment for his role in running the notorious Tuol Sleng prison, where thousands of inmates were killed.