The Afghan 'green-on-blue' attacker seen as a hero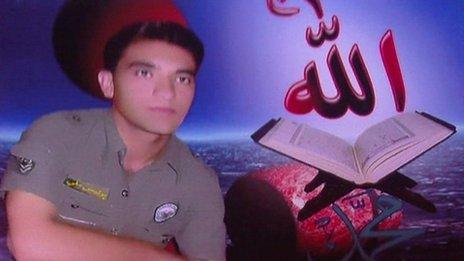 An Afghan border policeman who killed two US soldiers in a so-called "green-on-blue" attack in 2011 has been venerated after his death by many in his community. His family have given the BBC's Firuz Rahimi and Johannes Dell a rare insight into what motivated him to carry out the attack.
On 4 April 2011, Samaruddin opened fire on two US soldiers in the northern province of Faryab, killing them both before fleeing.
It was one of dozens of "green-on-blue" attacks in which Afghan security personnel have targeted their Western allies since 2007. More than 100 soldiers in have been killed in one of the gravest security threats to Nato in recent years.
Samaruddin was tracked down three days later.
Nato said that "in the course of conducting an operation to detain him, he was shot and killed while trying to escape from the house he was hiding in".
Samaruddin's victims were named as 32-year-old Sergeant Scott Burgess and 26-year-old Sergeant Michael Lammerts.
They had been in Afghanistan for two months and were in Faryab to provide security at a meeting of US commanders and officials of the border police post in the provincial capital Maymana.
Colleagues have described them as diligent soldiers always ready to help fellow troops. Each left behind a wife and two children.
Samaruddin's brother Qamar remembers the day of the killing clearly. He had heard there had been a shooting at the local headquarters of the border police in the morning.
"I was worried and I called Samarrudin to find out," he says.
"He picked up after the first ring. I asked - 'do you know that someone has shot two Americans in your base'? He asked where I was. I told him that I was in the city centre. He said 'leave town, it was me'. I was shocked and I didn't believe what he was saying."
It is unusual for insider attackers to escape and to leave a record of what they have done and why, but Samaruddin managed to flee and make his way back to the family house.
His cousin Gulam recalls how he rushed home on hearing the news, finding Samaruddin emotional and confused.
"When I got close to him, he started crying. I kissed his forehead and asked him not to cry."
The week leading up to the shooting had seen serious unrest across Afghanistan after news emerged that members of a small church in the US had burnt a copy of the Koran.
What Gulam said next gives a clue to what may have motivated Samaruddin to act as he did.
"I said to him - 'you killed them because of your religion and be proud of it'.
"We all were very angry."
Such sentiments may be shocking to outsiders, but the family says that many of their friends and neighbours feel the same as they do.
Protests over the burning turned especially violent in the northern city of Mazar-e Sharif where an angry crowd stormed a UN compound, killing several foreign workers.
The family say that Samaruddin was particularly affected by the events.
Another brother, Noor Mohammad, says Samaruddin took part in the protests and went to the mosque several times where the mullah remembers him sitting in the front row.
"The mullah said that as he [Samaruddin] heard about the Koran burning, he couldn't stop crying," Noor Mohammad recalled.
"That was on Sunday. Then later on Monday he killed the two Americans. Everyone knows that Samarrudin is a martyr. He laid down his life for his religion and the Koran."
The family say that Samaruddin stayed the night at their house before hiding in a mosque.
From there he contacted a friend to arrange a new hideout at a private house. It was there that Nato troops found him.
Many local people seem to share the family's view of Samaruddin as a hero. The family say that thousands of people attended the burial.
"The whole river bed here was full of people," Samaruddin's uncle Nasraddin remembers. "It was unbelievable."
Samaruddin's grave in the local cemetery is covered in dark red ornamented cloth. It is framed by coloured banners with religious inscriptions, illustrations and poems dedicated to the deceased. It has become a place of pilgrimage.
His uncle says that a local mosque has even been named after his nephew, at the request of local people.
But some are concerned about the way in which a man who killed two allied soldiers could become a hero and martyr overnight.
Abdul Momen Makrit, a local cleric, says that there is no religious justification for an attack on soldiers who came to assist the country.
"They are here to serve us. We have to appreciate what they are doing for the country," he told the BBC.
"Afghans are famous for their hospitality. We can't point the gun at our guest's forehead and kill them without committing any wrongdoing or sin.
"Some people even go further and use titles such as 'martyr' and 'holy warrior'. Most of them do it without knowing the meaning of it. Islam doesn't allow us to do this."
Mr Makrit says illiteracy and ignorance have made people vulnerable to manipulation.
Likewise, Samaruddin's mother does not talk about her son having died for a greater cause. She says she tried in vain to dissuade her son, aged 19 at the time, from joining the police.
"I told him that if you don't leave your job, I will go to the border police post and kill myself," she recalls. "But he served 22 months. I brought him up with great difficulties. But in the end we lost him."
Back at the family home, visitors are greeted by a big portrait of Samaruddin, and an inscription praising him as a hero.
His brother shows a set of small posters showing Samaruddin's image superimposed over a fighter jet and next to an open Koran. On other photos he poses with rifles and on the bonnet of an army jeep.
Samaruddin lived there until the age of 10. There was nothing unusual about his childhood. His cousin Gulam remembers him as a normal child and teenager.
"He was mischievous, but never meant harm to anyone. He liked football. He didn't like school," Gulam says.
Like many Afghans, the family was displaced by the constant conflict, moving to Pakistan for a while before returning to Faryab.
Many insider attacks are blamed on Taliban infiltration or arguments between foreign and local soldiers getting out of hand. But Samaruddin's case may point to something more troubling.
US journalist Anna Badkhen researched the events and met Samaruddin's colleagues in the border police.
"I went to his supervisors and we sat in an office and drank lots of tea and smoked cigarettes," she recalls.
"Even active members of the Afghan security forces considered him a hero."
Attitudes like this, she says, actually pose much more of a serious threat to Western forces than insurgent infiltration.
Ms Badkhen says that the hatred directed towards Nato is more a case of an individual acting on their own initiative rather than organised insurgency violence.
In his eulogy at the two men's remembrance service, their commanding officer Lt Col John O'Grady spoke of disbelief over the killings among friends and colleagues.
"The questions of why and how this could happen still linger, and will perhaps forever," he wrote. "I'm not sure there will ever be a good answer."