US court bails Pakistan bomb suspect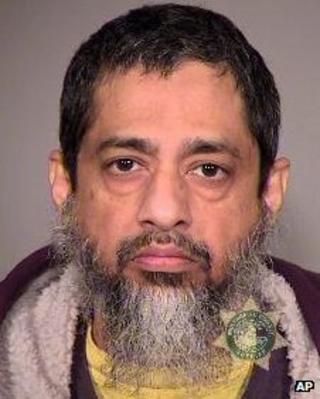 A US man accused of giving "material support" for a deadly suicide bombing in the Pakistani city of Lahore in 2009 has been given bail by a US court.
Reaz Qadir Khan, a naturalised US citizen, denies assisting three men who carried out the attack on the intelligence HQ in Lahore.
He pleaded not guilty on Tuesday in court in the city of Portland, Oregon. He faces a life sentence if convicted.
At least 30 people were killed and about 300 injured in the bomb attack.
Prosecutors on Thursday opposed giving Mr Khan bail, arguing that he may flee the US.
But District Judge Michael Mossman ruled that Mr Khan's ties to the community and his clean criminal record made him unlikely to abscond before his trial.
Judge Mossman ordered Mr Khan to avoid contact with two people connected to the case, whose names were not made public.
In addition he must pay a bond of $25,000 (£16,500), wear a GPS bracelet and remain at his Portland home except under specified circumstances.
He is not allowed to conduct financial transactions greater than $500 without the permission of the authorities.
Mr Khan is accused of providing advice and financial help to Ali Jaleel, one of the three people who carried out the attack in Lahore.
US Attorney Amanda Marshall said on Tuesday that Mr Jaleel died in the attack but had appeared in a video released by al-Qaeda confessing to the bombing.
Mr Khan has lived in the US since 1988, when he began a master's degree in New Jersey. He settled in Portland in 2006 and works for the city's wastewater department.