Indonesia probes Densus 88 police 'torture'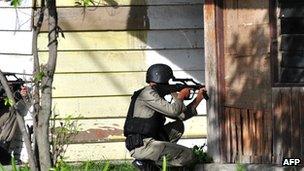 Indonesian police are investigating allegations of torture by dozens of officers after video footage said to show police abuse emerged last week.
The footage, released on YouTube, shows alleged members of counter-terrorism unit Densus 88 beating apparent suspects and shooting one man in the back.
Police have confirmed the video was filmed in 2007 in Central Sulawesi.
It has sparked calls by Islamic organisations to disband Densus 88.
The groups include the Indonesian Ulema Council and Muhammadiyah, the country's second largest Islamic organisation.
Asked about the contents of the video, national police spokesman Boy Rafi Amar said: "It happened in 2007 in Poso, [Central Sulawesi], it was part of law enforcement activities."
The fate of the man shot in the back is unknown.
Bhatara Ibnu Reza, operational director of human rights group Imparsial, told the BBC the video should encourage the government to look at the work of Densus 88.
"We have many times criticised Densus 88 for using excessive violence and causing the death of terror suspects; we reminded them that Densus 88's aim was to reveal terror networks, but how can they do that when the suspects are dead?" Mr Bhatara said.
Each member of Densus 88 is understood to be given training on human rights, he added.
"But do they apply the training in the field? It looks to us that they tend to make their own decisions by shooting dead the suspects."
Mr Bhatara said the assessment was urgent to prevent a culture of revenge among the children or relatives of terror suspects.
"The children saw their fathers being tortured and killed, and they wanted revenge. In Poso, radical groups even issued a challenge to the police," he said.