Qantas passengers ill on overheated Australian plane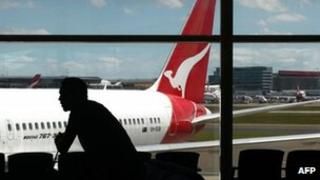 Two passengers on a Qantas flight in Australia have been taken to hospital with dehydration after the plane developed an air conditioning fault.
Local media quoted passengers as saying the temperature inside the plane had soared to 40C (104F).
The plane, bound for Lord Howe Island, was forced to return to Sydney, where it was met by medical teams.
Qantas did not confirm the temperature, but said passengers and crew were being treated for heat exposure.
The flight landed safely and crew had called ahead for emergency crews to meet them as a precaution, the airline said in a statement.
Qantas, Australia's national carrier, has been struggling in recent months, as a result of slowing demand, growing competition and higher fuel costs.
It was also hit by a trade union dispute, which grounded its entire fleet in 2011, and by the series of safety issues which have affected the Boeing 787 Dreamliner plane.