Singapore seeks FBI help over Shane Todd death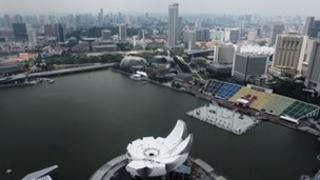 Police in Singapore have asked the FBI to help with an inquiry into the death of a US engineer in the city-state.
Shane Todd's death, in June 2012, was registered as a suicide by hanging.
But his family say they believe foul play was involved, pointing to his work on a project they say is linked to China's Huawei Technologies - something Huawei denies.
Singapore police said they had asked Mr Todd's family to share any evidence in their possession related to his death.
"If (the Todd family) were not comfortable handing evidence in their possession to Singapore Police Force, they could seek the FBI's help to review the evidence," they said in an emailed statement.
"As there has so far been no response to this request, Singapore Police Force has sought the FBI's assistance to engage the family and for FBI to examine the evidence."
A US embassy spokesperson in Singapore, Eric Watnik, said on Monday that the FBI would comply with the request.
"The request is focused on issues entirely within the United States," he added. "The investigation into Shane's death continues to be led by the Singaporean police."
Work 'anxiety'
In a Financial Times report in February the parents of Mr Todd raised serious concerns about the circumstances surrounding his death.
They told the newspaper that what they found at their son's Singapore home did not match details in a police report related to his apparent suicide. They also said they did not believe he was the author of a suicide note shown to them by police.
They said that before he died Mr Todd had described himself as "anxious" about work, but that he had rejected a suggestion from his mother that he was depressed.
They said he expressed concern about a project he was working on for his employers, Institute of Microelectronics (IME) in Singapore, a unit under the state-owned Agency for Science, Technology and Research.
According to his parents, Shane Todd said he was being asked to do project work with a Chinese company that he feared harmed US national security, the FT reported.
Mr Todd's parents picked up an external hard drive at his home which, the FT said, contained copies of their son's computer files from IME including a planned project apparently involving Huawei and IME.
The files detail an amplifier device using gallium nitride (GaN), technology that has both commercial and potential military uses, according to the FT.
Last year, Huawei and ZTE, another Chinese telecommunications firm, were labelled potential national security threats by a US Congressional committee, which said they had failed to allay fears about their association with China's government and military.
The committee said the two firms should be excluded from government contracts and prevented from making acquisitions in the US.
Huawei spokesperson Scott Sykes said on Monday that "Huawei does not do military equipment or technology nor do we discuss it with partners".
"The development of GaN technology is commonplace across the entire telecommunications industry," he added.
IME managing director Raj Thampuran has told the Straits Times newspaper that "there were discussions but no project ensued between IME and Huawei on amplifiers".
"Notwithstanding the unfortunate consequences arising from the speculative media reports, central to this tragic incident is the demise of one of our own. We deeply grieve his loss and will for a long time to come," he added.