Burma protesters remain in hospital after land clashes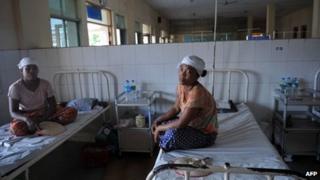 Nineteen farmers and several policemen remain in hospital in Burma after clashes at a land protest in which one policeman was killed.
Hundreds took part in the demonstration on Tuesday in the Irrawaddy Delta. Reports say the policeman was stabbed.
Scores were injured, including more than 20 police. Police say they fired warning shots and rubber bullets.
The protesters want land they say was taken from them under military rule to be returned.
Protests over issues such as land ownership have been increasing since Burma began enacting political reforms last year, but this is believed to be the first occasion in which a member of the security forces has died in such clashes, BBC Burmese's Soe Win Than reports.
'Didn't think they would shoot'
Farmers near Maletto, west of Rangoon, say hundreds of acres of land were seized by the military in 1996 and sold on to a private company.
Reports say several hundred people were involved in the clashes on Tuesday night. Protests have been going on in the area since last week.
Police enforcing a curfew said they were attacked with sticks and knives, and only fired warning shots.
Activists had a different version - six suffered bullet wounds.
"We didn't dare to complain when the military government seized our land as we were frightened," Naing Win, who had been shot in his arm and back, told AFP news agency from hospital on Wednesday.
"I did not think they would shoot us. Although I got shot, I will continue until we get our land back."
There are growing protests around Burma over land that was acquired for private use or for industry under decades of military rule.
Last November, police were accused of brutality in dispersing protesters at a controversial copper mine in the north-west, just one of hundreds of land disputes across the country.
Many see the mine dispute as an important test case of how the now reform-minded Burmese authorities handle issues dating back to decades of military dictatorship.
An official report into what happened has still not been made public.