Sri Lankan forces 'raped' Tamils in custody, study says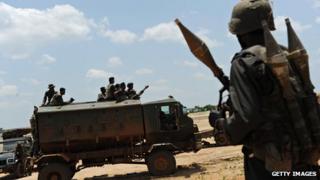 Sri Lankan security forces have committed crimes of sexual violence against ethnic Tamils in state custody, a new Human Rights Watch report says.
The study focuses on cases of alleged rape of men, women and minors detained between 2006 and 2012 because of their suspected links to Tamil Tiger rebels.
It documents 75 accounts of alleged sexual abuse and torture, saying most of them are backed by medical evidence.
Sri Lanka's government has dismissed the report as "rubbish" and "lies".
At least 100,000 people died during the 26-year war between government troops and Liberation Tigers of Tamil Eelam (LTTE) fighting for a separate homeland. The Tamil Tigers were defeated in 2009.
Both sides were accused of human rights abuses throughout the conflict and particularly in its final stages, when thousands of civilians were trapped in a thin strip of land in the north of Sri Lanka as fighting raged around them.
The report comes during a session of the United Nations Human Rights Council in Geneva, which is expected to discuss a resolution critical of Sri Lanka's human rights record and the army's conduct during the last phase of the war.
'Unlawful tool'
Human Rights Watch (HRW) says sex crimes committed by government security forces "sharply increased" following a ceasefire breakdown in 2006.
Most of the abuses were politically motivated, according to the report.
"Rape was one of the unlawful tools used by the military and police against suspected LTTE members or supporters to gather intelligence during the fighting and immediately after the conflict ended in May 2009, as well as to obtain information about any remnants of the LTTE since then, whether in Sri Lanka or abroad," it says.
The findings focus on 75 cases of alleged rape or torture of 31 men, 41 women, and three boys aged under 18, all arrested for suspected links to Tamil Tiger rebels.
In one of the accounts, a woman said she was raped just over a year ago in the Colombo office of the Criminal Investigation Department.
In another case, a former rebel who surrendered in 2009 said a metal rod and metal balls were inserted inside his penis and had to be surgically removed after he escaped from Sri Lanka.
A third man said he was raped, beaten and hung upside down when he was 17 years old.
Sri Lankan government spokesman Keheliya Rambukwella dismissed the report as "total fabrication".
"If they are making allegations they should give us the medical evidence so we can see if we've investigated," he told the BBC.
"[The allegations are] beyond any criminal activity, designed to tarnish the image of the country, total blatant lies. There's not 1% of truth in it."
HRW conducted the interviews over a 12-month period with former detainees in Australia, the United Kingdom, Germany, India, Malaysia, and Indonesia.
The research was carried out secretly because of government access restrictions, the organisation says. As a result, it was able to speak only to ex-captives and not to current detainees, whose "fate is of urgent concern".
Based on the witness accounts, those behind the sex crimes are thought to have included members of the Sri Lankan army, police, and pro-government Tamil paramilitary groups.
"In all of the cases documented, the acts of rape and sexual violence were accompanied by other forms of torture and cruel, inhuman, and degrading treatment by state security forces," the report says.
"The continued large-scale deployment of the armed forces in former LTTE areas of northern Sri Lanka, coupled with increased surveillance of civil society groups, has stymied community responses to rights abuses including sexual violence."
Based on its findings, the report has called on the Sri Lankan government to investigate and prosecute "those responsible, including persons with command or other superior responsibility, in proceedings that meet international fair trial standards".
Other recommendations include abolishing detention without charge or trial; granting humanitarian groups better access to the north of the country; and releasing individuals held without charge under emergency or anti-terrorism laws.