Indonesian army helicopter 'shot at in Papua'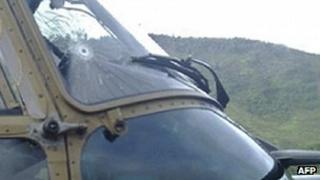 A military helicopter came under fire from unknown gunmen in Indonesia's Papua province as it tried to retrieve the bodies of soldiers killed in a previous attack, the army says.
At least one member of the Puma's crew was injured, and it had to return to its base without collecting the bodies.
Seven soldiers died on Thursday when they were ambushed by armed men as they patrolled in Puncak district.
Another soldier was killed in an earlier attack nearby on the same day.
It was unclear whether his body had already been returned to Jayapura or was among those being retrieved.
Jayapura city military airbase chief Diah Yudhanardi told AFP the helicopter was trying to land in Sinak when it came under attack.
He said the army was trying to arrange for another helicopter to transport the bodies later on Friday.
One crew member suffered shrapnel wounds to his hand in the attack, he said. However army spokesman Lt Col Jansen Simanjuntak said three people were injured and had to be taken to hospital.
Papua became Indonesia's easternmost province in a controversial election in 1969 that many Papuans say was a sham, says the BBC's Karishma Vaswani in Jakarta.
The poorly-armed Free Papua Movement has battled for independence ever since.
Thursday's attacks were the biggest to hit the military this year and Indonesian Security Minister Djoko Suyanto told AFP he suspected the movement was responsible.