Football officials urge corruption action at Malaysia meeting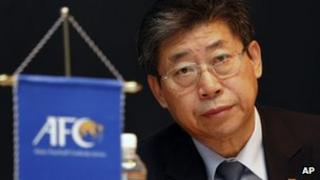 Officials in the world of football have said all countries and organisations must do more to tackle corruption.
The acting head of the Asian Football Confederation, Zhang Jilong, told a meeting in Malaysia about match-fixing that it had become "a pandemic" which no organisation could fight alone.
Fifa's security chief Ralf Mutschke said corruption should be addressed "on a political level".
The two-day conference in Kuala Lumpur was organised by Interpol and Fifa.
Some 200 representatives from 43 countries are attending the event, which aims to alert officials and law enforcement officers on how best to fight match-fixing.
In his opening remarks, Mr Zhang, who is from China, said it was time to "admit that match-fixing is a real danger to football's ethical values and needs to be eliminated to preserve the sanctity of the sport".
He said the problem was "too complicated and widespread for one organisation to fight it alone".
He acknowledged that Asia has become a centre of match-fixing, but said that "no continent is now left untouched by this disease. Match-fixing is now a pandemic in the world [of] football."
'Laws needed'
Earlier this month, police in Europe said an organised crime syndicate based in Singapore had been behind the rigging of hundreds of games between 2008 and 2011.
Mr Mutschke said the issue went beyond Fifa's jurisdiction, and that while football's governing body could ban players and referees, "criminals are out there free - they get no sentence. That's wrong".
"We have to bring in governments to change legislation and laws. Many countries do not have laws to fight match manipulation," he said.
Dale Sheehan, Interpol's training director, said it was essential to "take back the game of football" from criminals, who he said were able to make millions in profits with "little risk of being detected".
"Sports and fair play are the very fabric of our society and youth, and the impact of match-fixing, including murder, suicide, assault and threats has the ability to undermine that very fabric," he said.
The conference comes a day after China's football authorities banned 33 players and officials for life after they were found guilty of fixing matches. Another 25 people were given five-year bans, while 12 clubs were given financial or points-based penalties.
Mr Zhang became acting president of the AFC after his predecessor, Mohammed Bin Hamman, was given a lifetime ban by Fifa for corruption and bribery.